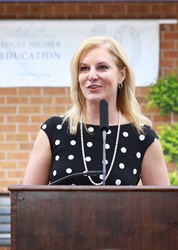 'Columbia College was one of the first colleges to be asked by the military to start a program, and one of the first to get on military installations,' said Newman. 'Ten percent of the Missouri National Guard education budget goes to Columbia College.'
St Louis (PRWEB) August 29, 2013
Columbia College celebrated 40 years educating adults at its St. Louis campus, which recently saw a major renovation. The ribbon-cutting event rededicated the renovated campus on Woodson Road. Established in 1973, the St. Louis campus was Columbia College's first Nationwide Campus location, and is one of 35 Adult Higher Education campuses across the country.
"This is a great day for the college," said Dr. Terry Smith, interim president of Columbia College. "Serving adult learners is woven into the fabric of our institution, and our mission is to provide students with a one-of-a-kind liberal arts education as the foundation for their careers and personal lives."
Columbia College's Adult Higher Education program began as response to requests from Army recruiters in the St. Louis area for flexible education opportunities, and, in 1973, the college established the Extended Studies Division. Today, the program serves more than 31,000 students annually and has been recognized as a leader in adult education.
"Columbia College was one of the first colleges to be asked by the military to start a program, and one of the first to get on military installations," said Brig. Gen. David Newman, director of the Joint Staff, Missouri National Guard, who provided remarks at the event. "Ten percent of the Missouri National Guard education budget goes to Columbia College."
Columbia College-St. Louis was established in 1973 and was located for a short time at the Army Reserve Personnel Center. The campus moved to its current location on Woodson Road in 1989. The campus served more than 1,500 students last year and has graduated 1,600 students since 2000.
Founded in 1851 in Columbia, Mo., Columbia College has been helping students advance their lives through higher education for more than 160 years. As a private, nonprofit, liberal arts and sciences institution, the college takes pride in its small classes, experienced faculty and quality educational programs. With more than 30 campuses across the country, 18 of which are on military installations, students may enroll in day, evening or online classes. The college is accredited by the Higher Learning Commission and is a member of the North Central Association of Colleges and Schools. Columbia College educates more than 31,000 students each year and has more than 74,000 alumni worldwide.
For more information, visit http://www.ccis.edu.