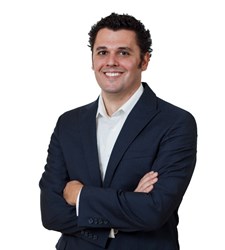 "I strive for a positive experience for my clients and something more than a number to be proud of."
Coto de Caza, California (PRWEB) August 31, 2013
The American dream guarantees us the pursuit of happiness, but never the achievement of it. Nowhere is this more apparent than in Southern California. From the hottest eateries, to the Hollywood walk of fame, this culturally diverse area of the United States is famous for those who strive to leave their own mark in their industry.
California native, James Hoff, has recently celebrated a new mark on his own path, by closing his eighth home in less than one year. James has been in the sales arena for over ten years, working for companies like New Balance, DHL and Callaway Golf.
"My goal and purpose for the last ten years has been to get people what they want," James states, "It's not just about presenting someone a product and saying 'You're welcome,' it's about learning about the person and figuring out what will work best for them, based on what I offer."
According to Salary.com, the majority of first-year real estate agents have a hard time making sales, as they are just starting to learn the ropes of the environment and process. James' success isn't common, nor did it come easily.
"I've had to work very hard," he continues, "Many of my previous skills have translated into what I'm doing now, but it's also a constant learning process. I never want to become stale or unaware of new trends in the market. What's the point of hiring an agent if you can't trust that they're giving you their expert advice and services? I never want my clients to feel uncertain or unsure. It's important to remember that there are people behind these transactions. I strive for a positive experience for my clients and something more than a number to be proud of."
James looks to not only expand his local market, but his national one, as well.
"I want people to grow to trust me. Not only for finding a home in Southern California, but for the people I can help connect them with based on my recommendation in other areas of the country, as well."
By creating a national network James plans to assist with closing deals on vacation homes, rental properties and more, as well as connecting with realtors across the country to create positive business partnerships. Having a strong outreach will help lessen the stress of cross country relocating by being able to provide a fun and professional housing experience.
Connect with James through http://www.jameshoffrealestate.com, chat with him on Facebook at Facebook.com/LiveInSoCal or tweet him @JamesHoffRealty. James works directly with people in the market for housing and looks forward to building strong relationships with his clients. James will be delighted to speak with people interested in moving to the Southern California area and consulting with people who are looking to buy or sell all across the country.