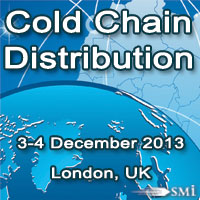 London (PRWEB UK) 30 August 2013
Sue Lee, Regional Quality Manager UK Ireland Middle East & Africa, World Courier will be presenting on Temperature Issues within the context of clinical trials logistics: Practical examples and solutions.

What are the common challenges facing shippers
How temperature requirements can drive logistics options
What can be done by shippers and 3PLs to improve the process and to ensure operational conformity and optimum results?
She will also be hosting a workshop on Transport Strategies for an Intemperate World. This workshop will address common problems and practical issues, identifying key factors, offering realistic advice and sources of information. Delegates will get out of the workshop a clear awareness of problems and solutions, operational regulatory and quality solutions as well as a greater understanding of critical industry issues (Workshop free for pharmaceutical companies only).
Building on the very successful 2012 event this year's conference will draw from the expertise of industry specialists, pharmaceuticals, suppliers, and academia. This will provide excellent opportunities for personal and business development, while striking first-class discussion on the field's hottest topics and challenges.
Key reasons to attend:

Discuss key topics with specialists relaying invaluable information of challenges of temperature control, distribution solutions, logistics management, transport methods, regulatory environment, and more
Explore up-to-date innovations and novel strategies to ensure uninterrupted cold chain distribution that ensure minimal costs and maximum results
Maximize your and your company's cold chain distribution potential by networking with professionals from every level of the industry, pharmaceuticals, suppliers, and academia
New topics for 2013 include: Transportation of dangerous goods by air, Risk evaluation of sea freighting, Comparisons of cold chain monitoring devices, Effective collaboration with vendor companies and more
Receive vital updates on regulation and GDP guidelines and how they will affect your supply chain
For more information on this conference click here or contact Fateja Begum on +44 (0) 20 7827 6184 or email fbegum(at)smi-online(dot)co.uk.