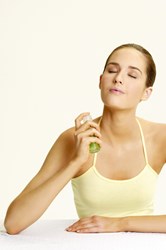 Miami, FL (PRWEB) August 30, 2013
Earlier this week, Medicalxpress.com released news surrounding the new FDA approved topical ointment for the reduction of redness associated with rosacea. While the article states that the topical treatment is meant to only reduce the reddening of skin, the approval of this product is the first to ever be proven to reduce rosacea associated redness. Although the product is said to reduce redness, the product will not guard against the pimples and bumps associated with the condition. In response to the ointment approval, the team at Probiotic Action offer rosacea patients a chemical free rosacea treatment option to battle the bumps and pimples of rosacea outbreaks.
Rosacea, aside from the red blotchy flare ups, has been said to have similar links to acne. The tiny bumps, pustules, and breakouts associated with rosacea flare ups have been linked to bacteria similar to, if not identical to, what causes acne. While many rosacea patients may now find relief from facial redness, unless they battle the P.acnes bacteria causing breakouts, their relief from rosacea may not be complete. In order to battle rosacea breakouts without chemicals, Probiotic Action suggests a topical probiotic, and probiotic cleanser regimen. Using probiotic based treatments (once approved for use with topical redness relieving ointments) will allow users to treat their skin condition, without the fear of chemical reactions.
Fernando Perez, a spokesman for Probiotic Action shared his expertise on caring for rosacea, "Rosacea, is very similar to acne and eczema, and even psoriasis. All of these skin conditions are based on a chemical unbalance in the immune system, and are worsened by unbalanced levels on bacteria. Caring for the body system internally and externally through diet, by regularly visiting a physician, as well as taking supplements to balance body bacteria levels, may be an additional option to caring for numerous skin conditions".
For more information on using probiotics for rosacea, eczema, and acne and other skin conditions, visit ProbioticAction.com and like them on Facebook for reviews and product updates.
Probiotic Action is an advanced acne treatment that uses Probiotics for acne containing the "good bacteria" that is naturally found on healthy human skin. By using probiotics, Probiotic Action is an effective treatment that restores the normal bacteria content on skin, while battling what causes acne. Probiotic Action will successfully clear skin when used as an adult acne treatment while protecting skin against bad bacteria, free radicals, and pollutants*.
*These statements have not been evaluated by the Food and Drug Administration. Probiotic Action is not intended to diagnose, treat, cure or prevent any disease.