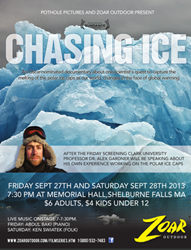 (PRWEB) August 30, 2013
On Friday, September 27th, and Saturday 28th, Pothole Pictures and Zoar Outdoor will be screening Chasing Ice at Memorial Hall in in Shelburne Falls at 7:30pm. The Oscar-nominated documentary follows James Balog's quest to document the melting of the polar ice caps before they disappear due to global warming. Balog first stumbled upon the beautiful ice caps while on assignment with National Geographic. What he saw on that trip convinced him of the pressing reality of climate change, so he set out on a mission to capture the story of the melting of our planet's ice. Along his journey, he recorded stunning footage of views that, even in the short time it took to film the documentary, have disappeared.
Friday evening's Chasing Ice screening will be followed by a talk from Clark University's Professor Alex Gardner, whose extensive research into the Earth's frozen surfaces, as well as his friendships with some of the film's scientists give him a unique perspective on the documentary. Gardner has done extensive fieldwork and research on how glaciers and ice sheets respond to and influence climate change. He's currently focused on glacier wastage and is contributing to the upcoming Intergovernmental Panel on Climate Change's Fifth Assessment Report.
There will be live music playing onstage from 7:00 to 7:30 on both evenings. Abdul Baki will play piano on Friday, and Ken Swiatek will play folk music on Saturday. Tickets are $6 for adults and $4 for children under 12 years old. You can visit Zoar Outdoor's Film Series webpage for more information.