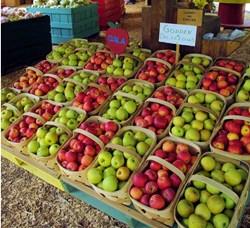 Best Mountain Towns
Hendersonville, North Carolina (PRWEB) August 30, 2013
Real Estate Scorecard reminds folks about one of Western North Carolina's most celebrated events taking place this Labor Day Weekend. Golden Delicious, Granny Smith and McIntosh are extra delicious as autumn quickly approaches in the Great Smoky Mountains this year. Popular gated North Carolina mountain communities know how to take a bite out of life (and an apple) as they gear up this Labor Day Weekend for the 67th Annual North Carolina Apple Festival in Hendersonville. Asheville real estate owners living near a Blue Ridge Parkway entrance have a variety of tasty events to attend and this famous fall festival is kicking off September in style!
This year, The North Carolina Apple Festival is happy to celebrate its 67th Anniversary and proudly names itself The Premier Family Festival in North Carolina. The 4-day event begins August 30, 2013 and ends September 2, 2013. Visitors and local residents can enjoy a variety of outdoor activities on Main Street in downtown Hendersonville North Carolina. Residents in Asheville and the surrounding gated North Carolina mountain communities need only take a 30-minute drive to this adorable best mountain town in North Carolina to participate in the fun for a day.
The festivities begin with the infamous Sidewalk Sales and Apple Festival Window Display Contest. Residents of Hendersonville get to show off their hometown pride at the Apple Festival Downtown Street Fair and visitors can take a stroll at The Orchard Tour to find the best bushels of apples in town! Travelers will be able to smell the Pancake Breakfast hosted by the local Kiwanis Club and the Apple Recipe Contest all the way near a Blue Ridge Parkway entrance. Families and retirees can spend a day enjoying the craft shows, club and museum exhibits, while even dedicating some free time for the kids at the Wells Fargo Kiddie Carnival. The 4-day celebration ends with the Tour d'Apple bike ride through the apple orchards and a closing event, The King Apple Parade.
A FEW EVENTS AT THE FESTIVAL:
Friday 7-10am Pancake Breakfast hosted by the Kiawanis Club
Friday 8-12pm Apple Recipe Contest
Friday 9-11am Orchard Tour
Friday - Saturday Apple Festival Downtown Street Fair
Friday - Monday 10am-10pm Live Entertmaint on Stage
Monday 8am-8pm Tour d'Apple Bike Ride
Monday 2:30pm King Apple Parade
With all of the wonderful events planned on Labor Day weekend, Asheville real estate owners and popular gated North Carolina mountain communities have full social schedules during the fall foliage season. The pristine mountain properties in this area are ideal for nature lovers and people who enjoy scenic views after a long day at the festivals. Gated communities near a Blue Ridge Parkway entrance like Balsam Mountain Preserve are in high demand due to the high quality amenities they offer like an award winning equestrian center, championship golf course, 30 miles of hiking trails and mountain top private restaurant. Asheville real estate near the heart of the Hendersonville are popular for their southern charm and country setting. Best mountain towns like Hendersonville are the apples of every retiree's eye this year and the North Carolina Apple Festival is just another reason to check out this popular retirement area.
From all you can eat apples to the most delicious apple recipes in Western North Carolina, the North Carolina Apple Festival is the most anticipated event of the fall season.
About Real Estate Scorecard
Real Estate Scorecard writes unbiased real estate reviews providing in-depth information about popular gated communities in Florida, Georgia, North Carolina, South Carolina and Tennessee, all in an effort to help people discover where to retire in the Southeast.
Website: http://realestatescorecard.com