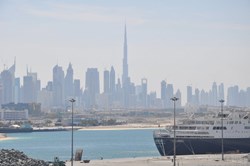 Dubai, UAE (PRWEB) August 31, 2013
Sherezade Management co-manages and co finances films along with their sister company, Sherezade Films Ltd. a film financing, production and Distribution Company registered in the British Virgin Islands (BVI) with representation in Bahrain, Los Angeles, Munich and New York. SF produced 12 full length movies in the US and Europe during 2007-2009 that focused on high quality output with controlled budgets of up to $15 million. Presently it is focusing on maximum budgets of $20-23 million that entail not only high quality, but have ingredients of high commercial success. The Management team has had over 100 years of combined experience in the entertainment sector as well as in the financial sector.
The company was founded in September 2005. In 2009, SF acquired majority share ownership of Curious Pictures, New York. Sherezade has worked with such "A" list Hollywood stars as Andy Garcia, Eli Wallach, Daniel Craig (007 James Bond), James Caan, Woody Harrelson, Sarah Jessica Parker, Natalie Portman, Dennis Quaid and many others. In six years they have had 12 theatrical global releases and have earned two Academy Award nominations for the 2010 release of: "The Messenger" with Woody Harrelson. Official Selection at the "Sundance Film Festival" in 2008 for: "Smart People" as well as their 2010 International release for: "New York I Love You" their latest film in development: "O Apostolo" has won official selection animated feature at the Malaga and Moscow 2012 film festivals and in February 2013 was nominated for the "Goya Award" Madrid's "Academy Awards" and in April 2013 won 6 Galician Awards Including Best Picture, the first time ever an animated film won "Best Picture".
Balmoral and Sherezade Management have joined forces as "Andalucía Consultants" and will be funding a slate of films covering over $100 million USD. They will make a significant Middle Eastern and European presence in the film and management of entertainment assets in the market place. "As a leading global joint venture and financing entity, Balmoral is the ideal partner to help spearhead our expansion without accredited investors into the burgeoning European and Middle Eastern film market," states Rodney Kincaid, CEO of Balmoral Capital Holdings Inc. Dubai, and looks forward to working hand-in-hand with Sherezade Management Company, http://www.sherezademgt.com, to bring the economic and environmental benefits to both companies, under the proposed joint venture ownership, Andalucía Consultants FZ LLC. Balmoral will contribute a license to certain intellectual property rights for entertainment properties and Balmoral will finance under its strategic business model.