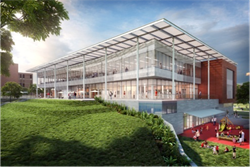 "We believe this institute, under the leadership of Peter Gillies, has the potential to make a profoundly positive impact on illuminating the relationship between nutrition and health in New Jersey and nationwide."
New Brunswick, NJ (PRWEB) August 30, 2013
Rutgers University today officially broke ground on the site for the New Jersey Institute for Food, Nutrition and Health (IFNH). The building project is a result of a $10 million grant awarded to the University by the Robert Wood Johnson Foundation (RWJF), the largest private philanthropy in New Jersey, as well as an additional $36 million in capital support from the State of New Jersey. The new Institute also received a $10 million endowed research fund from an anonymous donor.
The Institute will host six interdisciplinary centers of excellence, bringing together faculty members from Rutgers' departments of food science, nutrition, public policy, pharmacy, exercise science and sport studies, genetics, agriculture, and health sciences research. The six centers include the Center for Childhood Nutrition & Education, which is dedicated to educating pre-school aged children about nutrition, and a specialized Student Health Center, which will provide advanced counseling for eating disorders and incorporate nutrition as a part of health care.
"The Robert Wood Johnson Foundation has a long track record of supporting Rutgers University, particularly in the area of health- and health care-related research," said James S. Marks, M.D., M.P.H., Senior Vice President and Director of the RWJF Health Group. "We believe this institute, under the leadership of Peter Gillies, has the potential to make a profoundly positive impact on illuminating the relationship between nutrition and health in New Jersey and nationwide."
"This Institute's evidence-based research will focus on how the country's major health issues are affected by developmental nutrition," said Peter Gillies, Ph.D., Founding Director of the IFNH. "As a top priority, the Institute will focus on ways to stem the epidemic rise in obesity and obesity-related disorders such as heart disease, diabetes, and cancer." As its first strategic initiative, the Institute is focusing on childhood obesity.
Once complete, the approximately 80,000 square feet IFNH building will stand three-stories high and will include modular open-space research laboratories supported by clinical research facilities, a human performance center, a preschool education learning center, a conference center, and a healthy eating courtyard. More information about the Institute and the architecture can be found on the IFNH website.
At the ground breaking, Dwayne Proctor, Ph.D., Senior Program Officer and Team Director for Obesity at RWJF joined Rutgers President Robert L. Barchi, M.D., Ph.D., Robert M. Goodman, Ph.D., Executive Dean of Agriculture and Natural Resources, and other university leaders in marking the ceremonial beginning of the project, due to be completed by summer 2015. It is anticipated that the construction of this facility will also significantly increase student enrollment in the aforementioned programs.
In addition to providing capital for this project, RWJF recently contributed $12.5 million to support the merger of Rutgers University and the University of Medicine and Dentistry of New Jersey (UMDNJ). The Foundation also provides funding for a range of Rutgers programs including the Center for State Health Policy (part of the Institute for Health, Health Care Policy and Aging Research), and at UMDNJ the Child Health Institute, the Cardiovascular Institute, and the Cancer Institute of NJ.
About the Robert Wood Johnson Foundation
RWJF is the largest private foundation in New Jersey and the nation's largest philanthropy devoted exclusively to health and health care. Focusing on the most pressing health and health care issues facing our country, RWJF works with a diverse group of organizations and individuals to identify solutions and achieve comprehensive, measurable, and timely change. The Foundation has invested more than $1.5 billion in New Jersey since 1972.
PHOTOS AVAILABLE