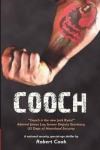 I know you will become a fan of my protagonist, Alex "Cooch" Cuchulain. Alex is a most unusual killer, with a bent towards Wall Street and special ops warfare.
St. Helena, CA (PRWEB) August 31, 2013
Gold medal Author Robert Cook and Royal Wulff Publishing today announced an unusual and limited time complimentary Kindle offering of thriller novel Cooch, from September 1 through September 5, 2013. This gift to readers is notable in that the companion novel to Cooch, Patriot & Assassin, was recently selected by Bill Gates for his summer reading list as reported by Huffington Post.
Readers may access this five-day complimentary offering HERE, beginning Sunday, September 1, 2013.
"In publishing, it is not often you see gifts such as this, but with the high profile that Bill Gates has given Patriot & Assassin, coupled with respect to Labor Day, I wanted to provide the opportunity for all my readers to read the original in the series," said novelist Robert Cook. "I know you will become a fan of my protagonist, Alex "Cooch" Cuchulain. Alex is a most unusual killer, with a bent towards Wall Street and special ops warfare."
Cook develops Alex Cuchulain as a Muslim executive who uses both his knowledge of Islam and his Irish-American heritage to begin to bring a better life to the masses of the Middle East, using the lessons of the Enlightenment as applied to educating the Muslim masses, boosted by technology and applied violence. Earlier in his life, Cooch was a CIA-sponsored special-ops warrior. Cooch and his team are sent to crimp terrorists' plans. His allies include a Rhodes Scholar former Seal, a former Marine sniper and a foul-mouthed, scary smart, female physicist who has developed the world's most sophisticated intelligence system.
The protagonist is a violent man with a unique set of learned qualities. His father is a wheelchair-bound former Marine and Medal of Honor winner who gives his son advice as to how to survive in a violent world. His mother is the daughter of a Bedouin sheikh who sent her young son off during many of his summer breaks to experience and learn the Bedouin life. The combination of a very young start in learning the art and craft of violence, combined with a thirst for knowledge drives him to become both a noted designer and user of explosives, an effective executive based in Tangier and an expert in Islamic affairs.
Violent, yet thoughtful, Cooch represents the best in fast-moving, popular thrillers.
About Robert Cook
Robert Cook is a shooter, soldier, entrepreneur, philanthropist, venture capitalist, vintner and now author. A United States Army Vietnam veteran, he attained the rank of Major and holds the parachutists badge, Bronze Star Medal and the Army Commendation Medal.
Mr. Cook is an active philanthropist. He endowed the Robert E. Cook Honors College of Indiana University of Pennsylvania that was recently covered in Donald Asher's book, "Cool Colleges for the Hyper Intelligent, Late Blooming and Just Plain Different." http://www.iup.edu/honors. He is currently active in its support, particularly for Achievement Funds used for assistance in study abroad and supporting low-paying, but valuable, internships.
Cook was named the Ernst and Young Entrepreneur of the Year for the Metropolitan Washington, DC Region in 1987.
Originally of Altoona, Pennsylvania, Cook holds a BS in Mathematics from Indiana University of Pennsylvania and an MBA from the George Washington University.
Media Contact:
Stacey Radinger
Sradi93466(at)aol(dot)com
(707) 331-9844
Robert E. Cook
PO Box 853
St. Helena, CA 94574