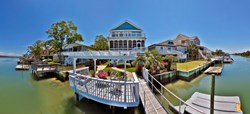 Loris, SC (PRWEB) August 31, 2013
Bad or mediocre photography in real estate marketing hurts realtor's online sales. The advent of point-and-shoot digital cameras have been a blessing to many when it comes to capturing personal memories; but when it comes to capturing images that will make a lasting impression amateur product photography makes selling a greater challenge. In real estate this is especially true. When buyers view listings of homes, what they are looking for is a first impression of what would be their future home, a place that looks appealing and catches their eye.
Many realtors capture their own images and albeit some have become proficient at it, the majority produces images that unwittingly may dissuade a potential client. Poor imagery not only affects the sales performance of the home being advertised, but it also reflects on how the realtor may conduct business.
CMMS Studio has found that more and more images are being captured with camera phones these days and used for this purpose. Although newer cell phones incorporate an impressive pixel count, it takes more than the sheer number of pixels to capture a professional looking image. Creating an image that will successfully market a home can be expensive, but in the end it pays off with the resulting sale.
The most successful real estate agents and companies set aside budgets earmarked towards the capture of professional images that showcase a home in a unique and appealing manner. They are aware that professional photographers know how to bring out the finer details that will outshine competing real estate websites and realtors.
The use of a professional photographer also allows the realtor to concentrate on what he or she does best: Sell Homes, talk to buyers, sellers and do their due diligence freeing them from the burden of having to go out to a home and do their best to capture the images for their clients.
These days potential home buyers do most of their real estate shopping through online listings. When a real estate website lacks quality imagery it is not uncommon for a buyer to move on to a competitor's website which may have better and more images of the homes up for sale.
Online consumers are better informed and do much research before they commit to a purchase online, at a store or before setting a meeting with a sales agent of any kind. The consumer wants to be impressed by a product and its reviews before making a decision and they often decide based on who has made the best impression. When a home is being listed in a higher price bracket, professional photography becomes a necessity and not a luxury and this needs to be better understood.
Professional photography is also a great way for a realtor to improve their portfolio and demonstrate to their client how they will list a home and how well it would be presented on the market. When a seller has a choice between a realtor who uses a point-and-shoot camera to capture images of a residence for sale versus a realtor that uses a professional photographer and product, without a doubt the client will select the realtor that used the professional..
About CMMS Studio
Located in Loris, South Carolina, Custom Multi-Media Solutions, Inc. was founded and incorporated with the objective of providing cutting-edge multimedia services ranging from Photography and Video to Graphic Design at affordable rates to people everywhere. CMMS Studio offers a wide variety of photographic services from Commercial Modeling to General Portraiture. We believe that every customer is unique and has specific needs. We provide personalized attention to all of our clients to help meet their personal budget. Our professionals include a video production team that films weddings, dance recitals and family events as well as producing high quality TV commercial spots, documentaries and industrial/training videos. CMMS Studio offers Graphic Design solutions for small and large business with three designers that can design anything from business logos to signs, brochures, billboards and web sites. No job is too large or too small.