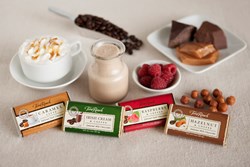 Petaluma, California (PRWEB) August 31, 2013
Both fermented, roasted, and ground for use, cocoa and coffee beans are a natural pair. Combining the two beans into one indulgent, gourmet dessert bar is Torn Ranch, a leading manufacturer and purveyor of specialty foods. Their new line of premium Coffee-Infused Chocolate Bars celebrates the delightfully bittersweet aroma of both beans.
Torn Ranch's Coffee-Infused Chocolate Bars are Kosher Dairy and contain only four hand-selected, all natural ingredients: dark or milk chocolate, vanilla, coffee, and natural flavoring. Available in convenient one-ounce (28.5g) bars that will satisfy cravings for both chocolate and coffee, the line contains four decadent flavors:

Irish Cream & Coffee Infused Milk Chocolate
Hazelnut & Coffee Infused Milk Chocolate
Carmel Latte Infused Dark Chocolate
Raspberry & Coffee Infused Dark Chocolate
"Each bar is inspired by the most popular flavored coffee drinks," explains Robert Dalson, the National Sales Manager for Torn Ranch. "Each flavor pairing captures the subtle nuances of the freshly roasted coffee and premium chocolate."
The new line will be debuting at the Specialty Food Association's 2013 Summer Fancy Food Show (Booth 1960) located in the Javits Center in New York City from June 30 to July 2. Along with the new Coffee-Infused Chocolate Bars, Torn Ranch will also be showcasing all five flavors of their Tea-Infused Chocolates, which combine the antioxidant properties of tea with the sweetness of gourmet chocolate for a satisfying snack or dessert option.
To try Torn Ranch's Coffee-Infused and Tea-Infused Chocolate Bars stop by Booth 1960 at the 2013 Summer Fancy Food Show. The full line of Coffee-Infused Chocolates will be available for purchase throughout the United States at select specialty retailers and online via the company's website. Torn Ranch products are made using all natural, sustainable, and organic ingredients. For additional information, please visit http://www.TornRanch.com.
# # #
About Torn Ranch: Nestled between San Francisco and Napa Valley, Torn Ranch is a manufacturer and purveyor of gourmet specialty foods. Family owned and operated, Torn Ranch provides a wide range of all natural snacks that include kosher, vegan, and gluten-free options. Each artisanal item is made upon order, providing maximum freshness to customers. For over 30 years, Torn Ranch has focused on using only the best ingredients and combining its products with innovative and eco-friendly packaging, creating a tasteful – and tasty – experience from start to finish. An established leader in both the wholesale foodservice and gourmet food retail sectors, Torn Ranch is a certified MBE (Minority owned business) and WBE (Women owned business).