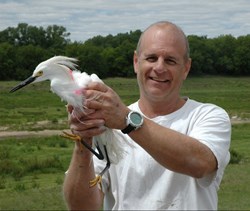 Morehead City, NC (PRWEB) August 30, 2013
Dr. John Brzorad, Director at the Reese Institute for the Conservation of National Resources and Associate Professor at Lenoir-Rhyne University, is leading the next discussion on the Great and Snowy Egrets, at the next Coastal Science Cafe on September 9th from 6:00 p.m. to 8:00 p.m. at Capt. Bill's Waterfront Restaurant located at 701 Evans St, Morehead City, NC 28557.
Tickets to the event are free and the first 25 registered participants to arrive will receive a free drink of their choice. Click here to register online for this event.
Dr. Brzorad will describe how knowledge about Great and Snowy Egrets (and animals in general) has transitioned from general knowledge about species, to more specific knowledge about individuals. This transition has been made possible by improvements in technology. The closer we look, the more idiosyncratic animals become with personalities that could parallel our own. Dr. Brzorad will discuss what we know about how egrets hunt, calorie counting for birds, and recent work being done on the North Carolina Coast.
Dr. John Brzorad serves as Director at the Reese Institute for the Conservation of National Resources, and holds the position of Associate Professor at Lenoir-Rhyne University.
Dr. Brzorad graduated from Cornell in 1981 with an undergraduate degree in biology; from the University of Illinois in 1985 with a Master's degree in Biology, and from Rutgers University in 1994 with a PhD in Ecology and Evolutionary Biology. Throughout his career, Dr. Brzorad has received numerous grants for various study programs in Field Ecology as well as some in Biotechnology. He is well published in scientific journals and presents at scientific conferences across the country. He also serves as a media scientific consultant for radio, television and numerous print publications.
He has been doing ecological research on egrets, and the ecosystems that support them since 1988. His studies have taken him from New York City Harbor, to Wichita, Kansas, Florida, and North Carolina. In addition to doing strict scientific research, he is also interested in the intersection of faith and science. His family includes Will and Sophie, (both 15) Carl, 19, and Justin, 20. He is engaged to Dawn Rennick.
GO-Science is a first-class learning experience for Eastern North Carolina that provides inspirational, motivational, and educational programs and activities for children, adults, and schools in order to help participants appreciate the role of science in our lives; believing that the knowledge of science, technology, engineering, mathematics, and medicine (STEM) is a core understanding and capacity of an educated community.
GO-Science, a registered 501(c)(3) non-profit organization established to bring informal science education programs to the public through hands-on learning, recently announced the development of a Science Center in Greenville. While the fundraising and renovation of the current site at 729 Dickinson Ave., in Greenville, NC proceeds the organization is offering extensive public and school outreach services in over 29 counties in Eastern North Carolina. The Coastal Science Café program is one of over 15 programs the center offers throughout the region. The format of the Coastal Science Café is designed to allow members of the general public to interact with scientists working to address some of today's most important challenges.