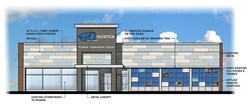 This is an important milestone for GO-Science as we move from just an idea of a science center to an actual facility that will be able to serve the community with important hands-on educational programming.
Greenville, NC (PRWEB) August 30, 2013
GO-Science, a regional science and technology center serving 29 counties in Eastern NC, announced the selection of C.A. Lewis General Contractors teaming with Dunn & Dalton Architects for the construction of Phase One of the Regional Science & Technology Center at 729 Dickinson Ave. in Greenville, NC.
The selection of C.A. Lewis as the Contractor by GO-Science concluded a comprehensive and competitive proposal, bidding, and selection process that included several qualified groups. The Board of Directors of GO-Science carefully evaluated the value proposition of all proposals to ensure that the organization responsibly allocated resources donated to the nonprofit for the development of the center.
Roger Conner, Executive Director of GO-Science, states "We are extremely pleased to award the contact for Phase One Construction to C.A. Lewis teaming with Dun and Dalton Architects. They have a track record of performance and a commitment to community based programs, and their competitive proposal reflected this commitment."
Mr. Conner added, "This is an important milestone for GO-Science as we move from just an idea of a science center to an actual facility that will be able to serve the community with important hands-on STEM (Science, Technology, Engineering, and Mathematics) programming."
Phase One of the Science Center will include a large mixed-use space designed to be a flexible location for GO-Science to deliver its over 19 core programs. This phase will also include a collaboration pod, staff offices, a small store, and storage space for educational programs and artifacts.
GO-Science is a first-class learning experience for Eastern North Carolina that provides inspirational, motivational, and educational programs and activities for children, adults, and schools in order to help participants appreciate the role of science in our lives; believing that the knowledge of science, technology, engineering, mathematics, and medicine (STEM) is a core understanding and capacity of an educated community.
GO-Science, a registered 501(c)(3) non-profit organization established to bring informal science education programs to the public through hands-on learning, recently announced the development of a Science Center in Greenville. While the fundraising and renovation of the current site at 729 Dickinson Ave., in Greenville, NC proceeds the organization is offering extensive public and school outreach services in over 29 counties in Eastern North Carolina.
For more than 30 years, C. A. Lewis, Inc. has provided clients in Eastern North Carolina complete construction services-from site selection, master planning, design, value engineering, construction, to facility management.
While the firm has experienced modest growth, its primary focus has been on the quality and innovation of the services provided to a wide variety of commercial and industrial clients. The company has accumulated the depth of human and financial resources required to comfortably handle numerous projects, yet by design, the firm has remained small enough that the principals maintain an active role on each project. The result is a high level of personal attention given to each client.
Dunn & Dalton Architects, P.A. (D&DA), was initially established in 1996 in Kinston, NC by Michael Dunn as J. Michael Dunn Architect, PA. Early in 1999, he welcomed architect Drew Dalton as a partner and renamed the firm in 2000 to Dunn & Dalton Architects, PA. With a combined architectural experience of over 33 years, the firm takes great pride in its depth of experience, innovative solutions and professionalism. D&DA's broad range of experience includes new construction, facility analysis and renovation.
GO-Science is now planning and fundraising for Phase Two of the project. For more information about sponsorship and donation opportunities please visit http://www.GO-Science.org or call 1-800-919-0824.