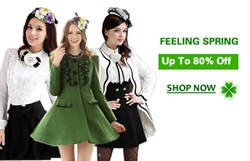 (PRWEB) August 31, 2013
Recently, 4leafcity.com, a leading provider of of wedding dresses, has launched its promotion of bridal wedding dresses (see: http://www.4leafcity.com/product-bridesmaid-dresses-011001003.aspx). In addition, the company vows that it will donate 10% of the wedding dress sales revenue.
According to the CEO of the company, the promotion is launched to show appreciation to all clients worldwide. Now, all these wedding outfits are available at discounted rates, up to 50% off. The special offer is available for 20 days only. To sign up to become a member of 4leafcity.com, register online on its website please.
"We are excited to launch the promotion to have our dresses available to more customers," says Ms. Ella, the Marketing Manager of the company. "Not only are we carry a wide range of wedding dresses, but we have also added many new designs of bridesmaid dresses, cocktail dresses, prom dresses."
4leafcity.com aims to sell 1000 wedding dresses this time, and all the staff has confidence to meet and surpass. Ms. Ella said, "We suggest that you check our website before making a decision to buy a fashionable wedding dress In addition to great discounts, we provide speedy delivery to give the best experience possible to a wide array of people."
In addition, 4leafcity.com is a company known for a great number of award-winning dresses, and the company is looking forward to a greater success in the years ahead.
About 4leafcity.com
4leafcity.com is one of the leading providers of women's dresses. The company carries a complete line of women's dresses, as well as elegant men's dresses and various accessories for men and women. For a full list of services and to learn more about 4leafcity.com, please visit http://www.4leafcity.com.