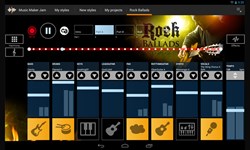 (PRWEB) September 05, 2013
Music Maker Jam is now available for free on Google Play. The Smartphone and Tablet app is optimized for Android 4+ touch devices and is one of the most downloaded on the Windows 8 Store. MAGIX Music Maker Jam's playful approach to music means everyone can start jamming!
Music Maker Jam is now available in 11 languages including English, German, French, Italian, Spanish, Turkish, Russian, Portuguese, Japanese, Korean, Simplified, and Traditional Chinese.
The user experience has been redesigned for Android, and now includes new movement features and an intuitive, familiar interface. The app will automatically detect the users device and display tablet or smartphone interface adaptions accordingly. The smartphone version has been designed to allow full functionality even on small resolution devices.
The starter content package includes 1000 loops from four different genres: Hip Hop, Dance, Electric Jazz, and Rock Ballads. With access to dozens of other musical styles, available for purchase in the app through Google Play.
A highlight of the Android version release is its new "shake feature." By shaking the device, random loops will appear in the mix board in place of muted loops. This little bit of random activity is a great way to push past a creative block. Other functions include touch and swipe controls of the soundboard as well as recording, exporting, and sharing of user created tracks.
Music Maker Jam is the easy and endlessly fun way to create music on the go.
App Highlights and Included Features:

Four soundpools with professionally produced loops: Hip Hop, Dance, Rock, and Jazz
A step sequencer which allows for easy harmony adjustment and tempo adjustment (BPM)
The ability to record/edit songs in real time while adding sound enhancing effects
An eight-track loop mixer for easy, complete song mixing
A mixing board which provides clear overview of all tracks selected including defined song details.
Customizable background images
A "shake" function to explore new loops
A "tilt" function to adjust saturation levels on the effects board
The ability to combine different styles of music with the loop selector
The ability to record and live edit tracks, save as an audio file, and share with friends
MAGIX Music Maker Jam for Android is available in the Google Play Store.
http://magix.com/music-maker-android_all
Editors Notes
For further information and screenshots please contact:
Nova Fisher
Tel +44 1442 351035
email: nfisher(at)magix(dot)net
About MAGIX:
MAGIX is a leading international provider of high-quality software, online services and digital contents for multimedia communications. Since 1993, MAGIX has been developing leading technologies for creation, editing, management and presentation of photos and graphics, videos and music. Internationally, MAGIX operates from branches in the USA, Canada, the UK, France, Italy, Spain and the Netherlands. The product range is targeted towards laymen and professionals alike and goes beyond the PC range to include seamlessly integrated online and mobile applications.
According to its retail sales figures, MAGIX leads in the multimedia software sector in Germany and the most important European markets, and is one of the most successful competitors in the USA. Fifteen years of market presence as well as one thousand awards worldwide testify to the company's power of innovation.
Music, photo, and video software from the market leader - MAGIX.