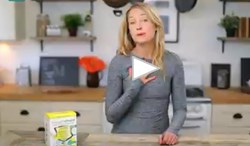 Joyus really captured the needs of our consumers and did an excellent job representing our brand!
Scarsdale, New York (PRWEB) September 10, 2013
With roughly 80 percent of wellness enthusiasts turning to the internet to shop for key health, fitness and beauty products, this makes it even more essential to visualize the value proposition of products before making a purchase.
Joyus, the web's first premium video shopping platform, believes visual is key. In fact, it is their mission to transform the shopping experience by harnessing the power of video.
According to a May 2013 study released by Joyus, video viewers are buying 4.9 times more than those who don't watch the product videos. Joyus' video has created direct sales of goods and service, which have proven to convert at 5.15 times the rate of visitors who only browse product listings on the site.
When HungerShield was approached by Joyus to be featured as part of a set of products to help customers prepare for summer, HungerShield's four dietitian founders knew the appetite control product would resonate with their audience. "After years of working with patients and seeing the need for a convenient, easy-to use-product that keeps you on track with any diet plan, we knew that a video would easily demonstrate the value," says Dafna Chazin, MS, RD, HungerShield co-founder and registered dietitian. "Joyus really captured the needs of our consumers and did an excellent job representing our brand."
"Joyus really helps brands get their core message across," says Chazin. "They have demonstrated best practice as an e-commerce distribution partner."
About HungerShield
HungerShield is an innovative appetite control drink mix created by four registered dietitians, Elizabeth DeRobertis MS, RD, CDN, CDE, Heather Zeitz RD, CDN, Elizabeth Pecoraro MS, RD, CDN and Dafna Chazin MS, RD, CDN. HungerShield is the only product on the market designed specifically to curb appetite through a unique blend of high quality and natural ingredients, including protein, fiber and probiotics. It is also the only product in this category that was created by healthcare professionals and can work with any diet plan on the market. For more information about the product, a list of locations where HungerShield is sold, or to purchase the product online, please visit http://www.hungershield.com. You can follow HungerShield on Twitter @HungerShield and on Facebook.
About Joyus
Joyus is an innovative video shopping experience inspiring modern women to live beautifully everyday. Joyus's team of fashion, beauty and lifestyle experts bring trusted advice, special product finds, and insider tips to online shopping, creating a truly one-of-a-kind experience. Founded in 2011, the company boasts an experienced and passionate management team from Amazon, Google, eBay, Polyvore, Sendme Mobile, CNET, Hewlett-Packard, Efficient Frontier, Hasbro, Marc Jacobs, Dior Beauty, Mercedes-Benz and Chanel. Joyus was named amongst the "World's Best Retail Web Sites" by Internet Retailer (2012), selected as Brand Innovators' "Top 25 E-Commerce Companies to Watch" (2013) and AO Networks "Top Private Companies to Watch" (2013). Visit http://www.joyus.com.