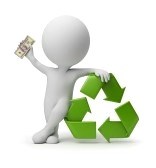 It is the perfect system for city and state employees with rigorous demands and multiple punches per day.
New York, NY (PRWEB) September 10, 2013
MinuteHound is a modern, complete payroll time clock replacement system, utilizing biometric fingerprint technology, which allows employees to clock in and out with a simple finger press. MinuteHound's time and attendance software makes it easy to keep track of payroll without any guess work or time theft, and everything is designed to be simple, both to set up and to use.
Many city and state employees have time and attendance demands such as multiple punches per day, or working from separate locations. With MinuteHound, an employee can punch in as many times per day as needed, while also punching in and out from any location. An employee can clock in at one site, and clock out at another, all the while the times are being accurately recorded. The punch in clock is very easy to use and easy to place as its small and compact.
The scanner itself only requires a connection to the internet from any computer to become that location's clock-in terminal. It does not require a dedicated computer, which allows normal use of the machine without being bogged down with awareness of the software running in the background. The scanner connects via USB, which allows it to be up to 54 feet from the computer to which it is attached.
Once the time clock is installed and employees are enrolled, the system is ready for use. Employees clock in by placing their finger on the MinuteHound fingerprint scanner. The fingerprint is converted using a patented process into a 128-bit encrypted number, which is then fragmented and sent to four different and secure servers across the globe. This protects the employee's privacy (the number cannot be traced back to any one individual) while still allowing for identification of the employee at the time of clock-in.
An employee's working hours can be viewed at any time from any location, due to the cloud-based nature of the software. The software can even notify via email or text if an employee is late or clocks out early from a shift.
There are no time cards to reconcile, which ultimately saves time and money each pay period that would otherwise be spent on accounting labor, and the data can be exported for use in commonly used accounting systems. Furthermore, the system is designed to be plug and play, requiring no training or learning curve, and MinuteHound offers round the clock support for any issues that might be encountered.
MinuteHound offers a risk free, full money back guarantee, and the system can be returned for a full refund of the scanner price regardless of how long it was in use. Customers only need pay for any service utilized between the time of purchase and the time of return. MinuteHound will even cover the cost of shipping, as they are fully confident in the merits of their product an the money-saving benefits thereof.
MinuteHound is designed to be an easy to use time clock replacement system for businesses of any size. It is the perfect system for city and state employees with rigorous demands and multiple punches per day.
MinuteHound Contact Information
Website: http://www.MinuteHound.com
Email: info(at)MinuteHound(dot)com
Phone: (800) 351-7237