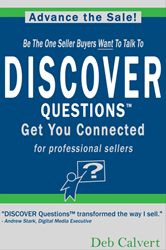 "Deb Calvert shows you how to differentiate yourself by starting with an intent to understand your customer's needs and then she walks you through all the steps you need...."
- Lisa Earle McLeod, sales leadership expert
San Jose, CA (PRWEB) September 10, 2013
Author, field researcher and sales coach Deb Calvert has written an innovative sales resource following 20+ years of field research, and has identified the eight types of questions every sales professional must ask to advance the sale.
The book has received numerous accolades and endorsements from sales industry thought leaders. See why Mike Bosworth, author of "Solution Selling" and "What Great Salespeople Do" says "Debra Calvert understands what it took me years to learn; you can have the best questioning model there is, but until you have emotional connection and trust, buyers will not want to answer your questions."
Tom Reilly, author of "Value-Added Selling", adds, "…Writing a book about questions begins with a simple premise: It must be about the buyer, not the seller. For anyone who wants to learn how to think as their customers think, I recommend reading this book. Your sales life will improve immediately."
To pre-order your autographed copy, order today. All pre-orders receive a free webinar, ($49 value), a $2 discount on the cover price and more. Books go on sale on amazon.com on September 15.