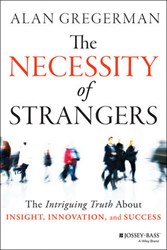 San Francisco, CA (PRWEB) September 19, 2013
"Alan Gregerman stops you in your tracks and forces you to re-examine your behavior and ways of thinking. A wonderful and inviting read, punctuated by practical, well-founded insights, The Necessity of Strangers shows how to lead organizations that explore, connect, innovate, and grow." —Amr ElSawy, president and CEO, Noblis.
In THE NECESSITY OF STRANGERS: The Intriguing Truth About Insight, Innovation, and Success (Jossey-Bass; September 10, 2013), Dr. Alan Gregerman shares his surprising and contrarian research finding that it's who we don't know, not who we know, that determines business success.
As business becomes increasingly focused on innovation, collaboration, talent, and global markets, it's never been more essential to connect, learn from, and collaborate with strangers—both in our midst and from far corners of the globe.
When it comes to hiring, collaboration, and managing, most organizations reward "group think" in the name of strengthening their culture. When in fact, the opposite is what unlocks potential and leads to breakthrough ideas: hiring and incentivizing employees and teams to be the "strangers" who can challenge the status quo, help us see our current limitations, and stretch the thinking of an organization that is stuck in its ways. The most important role of leaders today is to encourage their people to be more open to new and different people, ideas, coworkers, partners, and customers. Nothing else will better help them achieve their potential so your business can evolve and thrive.
Gregerman makes his case with scores of compelling and accessible examples ranging from how Nissan developed anti-collision technology by talking to marine biologists, why RepairClinic won in the low-margin world of selling appliance parts to strangers by leveraging the power of YouTube, and how Holy Cross Hospital customized their emergency rooms by studying the needs of patients who would otherwise be treated as strangers. What happens when an organization steers clear of strangers and relies too much on its own way of thinking? Look no further than the disasters that befell Blockbuster, Borders, and the Deepwater Horizon.
Gregerman proposes that being more curious and open to strangers down the hall, across the street, and around the world, is the key to transforming almost every aspect of your business including:

Innovation: 99% of the best new ideas come from connections with people from other industries, places, cultures, walks of life, and perspectives.
Hiring/HR: Incentivize new employees from their first day on the job to challenge authority and your company's culture as opposed to fitting in and diminishing the genius they have to offer.
Marketing and Customers: in a world where most of us have less contact with our customers,
we must gain deeper insight about strangers to build better products, services, and relationships.

Leadership: the best leaders will need to inspire all of their employees to explore, connect, innovate, and grow by casting a wider net by fostering "cultures of conversation."
Careers: the most successful people at all levels must see strangers as the key to stretching their thinking, knowledge, networks, and sense of possibilities.
Collaboration and teamwork: Defy "group think" in your teams by incentivizing collaboration based on openness to new thinking and challenging the status quo.
Mergers & Acquisitions: the companies that will succeed will be the ones that seek to truly merge cultures, people, and diverse knowledge into a whole much greater than its parts.
The consistent challenges that most companies face engaging their employees and creating real value from collaboration and mergers and acquisitions can be tied directly to their inability to understand and value strangers. With a "stranger-centric" mindset, today's companies and their people will become less risk-averse and more capable of unlocking new markets, discovering breakthrough ideas, and forging stronger relationships with employees, customers, and partners.
ABOUT THE AUTHOR: Dr. Alan Gregerman is an award-winning author, business advisor, and teacher. His writing and consulting work focuses on helping companies and organizations create winning strategies and more remarkable products, services, and customer experiences by unlocking the genius in all of their people. Alan is the author of two previous books, Surrounded by Geniuses and Lessons from the Sandbox. He has also worked as a mapmaker, subway mechanic, hotel housekeeper, and is currently an Adjunct Professor of Innovation at Georgetown University. He has been interviewed by Marketplace, CNN (Anderson Cooper), ABC-TV, and Fox News Channel, and has been featured in BusinessWeek, The Washington Post, and San Francisco Chronicle. He lives in the Washington DC area with his family. For more information, please visit: http://www.alangregerman.com.