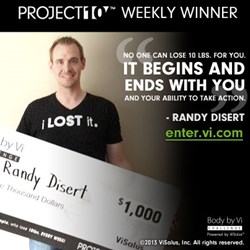 (PRWEB) September 05, 2013
Randy Disert, a recent Visalus Project 10 winner, aims to raise awareness of The Visalus Project 10 challenge. According to Disert, the Body by Vi Project 10 challenge was one of the best things to happen to him. He had been trying to get his weight to below 200 pounds without much success, and this challenge made him feel highly motivated. From the picture you can tell that he is really a Project 10 winner.
The challenge aims to award $10,000 every week to 5 men and 5 women who lose 10 pounds on a Challenge Kit. Project 10 helps people make that initial step towards losing weight. According to Visalus, the first 10 pounds are the hardest for most people to shed. After those first 10 pounds, it's less challenging to lose the rest of the extra weight.
According to the Project 10 announcement, losing 10 pounds not only encourages people to keep on working out but it also helps people look slimmer, healthier, sexier and feel more successful. According to the announcement, participants have to fulfill some requirements in order to partake in the challenge. Participants must first must buy one of the 5 Challenge Kits offered. They must upload a personal video titled "I Want It," saying what losing 10 pounds will mean to them personally. Once participants have lost 10 pounds, they can return to their site, upload another video, and this time show that they actually lost 10 pounds.
Project 10 winner, Randy Disert states, "It's a really awesome feeling to be able to win $1,000 for simply losing 10 pounds. It really makes it so much more real and is a great motivation to keep pressing forward with your health goals. I'm proud to represent Visalus as a Project 10 winner. Be sure to watch the awesome compilation video ViSalus put together for me. I'm very impressed with their quality of work & attention to detail." He says that losing weight gave him a great feeling and he felt highly motivated not just to stay healthy himself but to encourage others to do so by joining him on the BodyByVi challenge.
About Visalus
Visalus is a health company which, according to their mission statement, is committed to helping people, one at a time, to lose 10 pounds. It is partnered with BLYTH, which makes products designed to enable better living through better health.
Visalus has several products on offer. One of them is the Challenge Kits that you have to buy of you want to join the Visalus Project 10 challenge. Another is a protein super cereal called Vi Crunch. The shake is advertised as good for the whole family. Their products come with a fact sheet and an FAQ so that customers can get all the information about the kits and products that they are buying. To get started on your challenge today, visit http://www.90DaysWithRandy.com