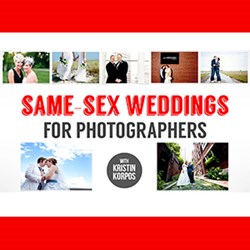 The increasing number of same-sex weddings has created a new demand, as well as an expanded revenue opportunity, for photographers.
Boston, MA (PRWEB) September 04, 2013
Same-sex Weddings for Photographers is a new, first-of-its-kind online video training course from Kristin Korpos of Nifty Knowledge Rocks. With same-sex marriage now legal in thirteen states and the District of Columbia, an exceptional number of gay and lesbian weddings are taking place across the country. The increasing number of same-sex weddings has created a new demand, as well as an expanded revenue opportunity, for photographers. But not all wedding photographers are prepared to photograph same-sex weddings. They face difficulty in understanding how to be a gay friendly photography business, what new traditions to expect at a same-sex wedding, and how to effectively market to same-sex couples. Photographers, while eager and excited about the emerging market of same-sex weddings, may also be intimidated.
Enter the video training course Same-sex Weddings for Photographers. Just released, this course goes beyond boring old book learning and features over five hours of video content, along with a variety of supplemental business materials. It is the first course to provide answers, education, and tips on both the business questions faced by photographers entering the same-sex wedding market, as well as posing and wedding day preparation questions.
This course is available for purchase on the Udemy learning platform:
https://www.udemy.com/same-sex-weddings-for-photographers
Said Korpos: "Most modern photographers, while possibly lacking the confidence, are technically ready to photograph same-sex couples. Photographing same-sex couples (with a few tips from me) is very similar to photographing any two people in love. Attempting to see past traditional gender roles and heterosexual wedding traditions is more challenging and this course walks photographers through those concerns. I actually walk students through a large selection of my personal images from various same-sex weddings. But what really makes Same-sex Weddings for Photographers so unique is my coverage of business topics. I am excited to cover what it takes to ensure a photography business is gay friendly, even so far as to provide various documents I use in my own business, along with actionable marketing strategies focused towards reaching out to same-sex couples. This is an exciting time in history. As a supporter of both marriage equality and increased business revenue opportunities for photographers, I am excited to share my knowledge with the world."
Click here for more information about Same-sex Weddings for Photographers, including a complete list of the photography course curriculum.
About Kristin Korpos and Nifty Knowledge Rocks
Kristin Korpos is the founder of Nifty Knowledge Rocks, a blog that provides helpful business information and resources to photographers. She is an attorney and holds a Masters in Business Administration. In 2009, while trying to find a creative balance to her corporate career, Kristin started a photography business. She quickly became a sought after wedding photographer, photographing nearly thirty same-sex weddings, and her work has most recently been featured in photographic industry publications such as Rangefinder and Behind the Shutter Magazine.
With the success of her own photography business, Kristin has become passionate about empowering other photographers with the knowledge necessary to run successful businesses. Through her podcast, photography training videos, and blog, photographers can gain knowledge on a variety of topics. Other resources she provides include photography contract templates and sales tax guides.