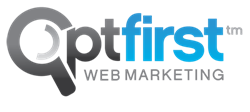 With the massive response we received after the launch of SEO Extention 1.0 Optfirst knew it had a lot to live up to. We hope that version 2.0 meets and exceeds those expectations. says John Vincent Kriney
Miami, Florida (PRWEB) September 15, 2013
Late last year, top Miami internet marketing company Optfirst, Inc. presented a brand new extension that will help business owners learn their competitor's as well as their own website's SEO status through the first ever Optfirst SEO Extension tool. Recently, however, the Miami-based online marketing company releases version 2.0 of the said Google Chrome extension tool with added information that will help helps determine where a website stands.
Any webmaster, internet marketing specialist or simply a website owner who wants to know their company website's SEO status as well as their competitor's would know how time-consuming it can be just to get all those necessary information. Using the Optfirst SEO Extension tool help saves a lot of time in getting all of this information; however, not all vital information came with the first SEO Extension tool. This is why Optfirst is excited and please to launch version 2.0 – which now includes linking, social, offsite and onsite website ranking factors.
In addition to the former version's categories, which included Website Backlinks, Website Traffic, Indexed Webpages, Website Cache History, Website Checklist, Domain Data, as well as a Bonus Box where users can find the No-Follow Link Checker, highlighting any No-Follow Links are highlighted blue. The Optfirst SEO Extension Tool 2.0 now features Website Backlinks and Social Media status, where users can instantly see how they fair in popular Social Networking sites such as Facebook, Twitter, Google Plus, and StumbleUpon. With the new features being added to the SEO Extension Tool, there's no excuse not to know where a company website stands and how its online visibility can be improved.
Webmasters, online marketing specialists, or even regular bloggers know how important it is that their website is being read by their target readers. And when it comes to Search Engine Optimization, it's not just the web marketing technique being used and the website design that is important, but how it fairs compared to its direct competitors. By using the new version of the Optfirst SEO Extension Tool, anyone can now get all the website's necessary SEO information without the need to purchase any application or dedicating too much time trying to get all the necessary information. Through Optfirst SEO Extension Tool version 2.0, getting your and your competitor's website SEO information is made easier in just one click.
--
About Optfirst:
Optfirst, Inc. is a Miami internet marketing company that offers ethical and organic SEO services including Web Design, Link Building, Pay Per Click Management, and more. Using over 20 internet marketing techniques to advertise a website, clients all throughout the state of Florida as well as nationwide can be guaranteed to get maximum visibility online.