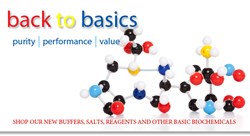 Solon, OH (PRWEB) September 03, 2013
As a leading manufacturer and supplier of biochemicals and innovative research reagents, AMRESCO's ability to deliver a comprehensive array of products with guaranteed quality and value is integral to their continued success and business growth. The diversity in life science research is dependent upon access to myriad biochemicals for customized experimental conditions, with market needs evolving continuously as research trends shift. AMRESCO periodically evaluates the brand portfolio and current market needs to refine their available products and select new ones for introduction. A recent evaluation resulted in the launch of twenty-six new biochemicals, including salts, sugars and more, that are now available as of August 2013 in off-the shelf pack sizes. As a custom manufacturer, AMRESCO can also create individualized pack sizes for customers with specific requirements.
In addition to the new biochemicals, AMRESCO also recently added two new chemiluminescent substrates, VisiGlo™ Prime and VisiGlo™ Select to enable sensitive detection of horseradish peroxidase-labeled targets. These proteomics products are available for sampling and are on promotion for a limited time. Visit AMRESCO's website for all the details.
For more information about the new biochemicals or any other AMRESCO product, visit http://www.amresco-inc.com or call 1-800-448-4442.
AMRESCO is a manufacturer and supplier of high quality biochemicals and reagents for molecular biology, life sciences, proteomics, histology and clinical areas of research. The company is ISO certified to ensure customers receive the highest quality products.