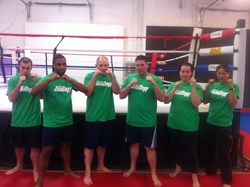 "This is a positive step for the program and the women of the program will benefit from it tremendously."

- Julius Park, Head Instructor
Baltimore, MD (PRWEB) September 05, 2013
Crazy 88 Brazilian Jiu Jitsu has recently announced the launch of a new Womens Fitness Bootcamp to include a complete overhaul and weight loss guarantee.
Located in Elkridge, Maryland, Crazy 88 is a Mixed Martial Arts school that provides a variety of martial arts and fitness programs to the Baltimore area. Known for its Brazilian Jiu Jitsu and Muay Thai programs, the school also provides Womens Only and a Womens Fitness Bootcamp.
Considering the feedback of students and instructors alike, Crazy 88 has implemented several changes to the program which have recently taken effect. The overhaul includes a new instructor, schedule changes and a weight loss guarantee.
Crazy 88 will introduce Jen Watson as the newest member of the instructor team. Jen is a Certified Personal Trainer who has experience in helping female clients achieve weight loss by implementing structured fitness and diet programs.
The overhaul will also include schedule changes. Women will now be able to choose from a variety of sessions offered on a variety of month intervals. The three month program options will allow women to create time specific fitness goals rather than the previously open ended time structure.
Crazy 88 is also backing the changes with a weight loss guarantee. Women who attend all of the scheduled classes, as well as, follow their individualized meal plans are guaranteed to lose weight. If a member follows the program and sees no results then they will receive their money back, no questions.
Head Instructor, Julius Park said, "We are excited about the new changes to the Womens Bootcamp. With her expertise, Jen is bringing a lot of new things to the table that the women are excited about. This is a positive step for the program and the women of the program will benefit from it tremendously."
To join the program today at Crazy 88 - Elkridge call (443) 283-1450 or visit http://BaltimoreMixedMartialArts.com. To learn about the programs at Crazy 88 - Owings Mills call (410) 999-1064 or visit http://www.Baltimore-MMA.com.