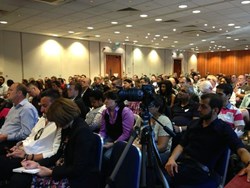 The training was solid gold. Thank you for organising ... have been struggling to get myself going but today has opened my eyes.
London UK (PRWEB UK) 5 September 2013
Over 150 entrepreneurs from all around the country joined Chris and Susan Beesley in London to launch the Empower Network Team UK's very first live event. The event attracted entrepreneurs from all over the UK to this "sold out" event and Chris and Susan fully expect the next gathering to more than double as word gets out about this new movement.
Coming from a professional background as accountants and management consultants, the transition to becoming an "internet entrepreneur" was far removed from Chris and Susan's previous knowledge and experience. However, they understood that being an entrepreneur can sometimes be a lonely journey, because in business everyone needs a helping hand from time to time; someone to talk to; someone to motivate them when the going gets a little tough; someone to set them on the right path and help keep them there. Above all, friendship and community. They saw first hand how this could be achieved from having attended the company conferences in the United Sates where upwards of 6,000 people have gathered together with one vision and as one community.
The idea was born out of what they saw to bring all of the Empower Network entrepreneurs from around the UK together as one community - one team - where they could be inspired and motivated by one another. To start a movement and to transcend that same vision of community, friendship and personal development started by David Sharpe and David Wood, the Co-Founders of the company.
Asked what his vision was Chris Beesley said "Susan and I want to help people become successful entrepreneurs and leave the 'working for someone else' mentality behind forever and to be empowered to take responsibility for their own income. It aligns perfectly with the vision of the company."
Speakers and trainers on the day included as well as Chris and Susan Beesley, Simon Stepsys, Paulo Barroso, Shaqir Hussyin and David Sharpe and Vick Strizheus (by video link)
For anyone who is not familiar with Empower Network, it is one of the highest paying and most celebrated affiliate programs on the Internet where members are encouraged to work on being the best marketing professional and master the sharpest marketing tools and strategies of today's entrepreneur. It was founded on the idea that individuals can build businesses and have personal lives at the same time. Believing that individuals can use the struggles, hardships and experiences they've had in life and turn them into their most empowering assets.
Founded in 2011, the company has enabled more than 150,000 people to launch their dreams. People who have struggled for years in business are having success with the help of the opportunities Empower Network provides. Customers searching for simple and honest marketing systems and training programs are having breakthroughs and getting results with the products. Most importantly, members are finding purpose in business and life through attending our events and interacting with the Empower Network community and leadership.
For those in the UK looking to become an entrepreneur and wanting to join a community dedicated to their success Empower Network Team UK could be what they are looking for.
For more information on Empower Network Team UK should contact Chris and Susan Beesley
Phone: 0044 7802 85755 (Chris)
Phone: 0044 7850 585400 (Susan)
Skype: chrisbeesley1
Email: info(at)chrisandsusanbeesley(dot)com
Website: ChrisAndSusanBeesley.com
Chris and Susan Beesley are a husband and wife business partnership passionate about helping home business owners achieve success. They are the Founders of the Ten Ten Formula Training and Empower Network Team UK with a vision of empowering thousands of people in the UK and worldwide to start their own small business and take control of their income and their lives. Anyone interested in becoming an entrepreneur and who would like to come to the next event should contact Chris and Susan for information.