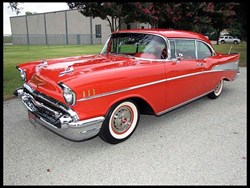 It is a tangible, quality investment you can touch and enjoy anytime.
Dallas, Texas (PRWEB) September 04, 2013
Long time, local car dealer, David Thomas has sold around 10,000 cars in his 32 years in business in Dallas, but this recent trade in has the distinction of being probably the coolest car he has ever handled. A pristine, mint condition Matador Red 1957 Chevrolet Bel Air Coupe... that last sold at the renowned Barrett Jackson auction in 2008 brought over six figures in Scottsdale, Arizona. Will it do it again this next weekend in Dallas at the Mecum Auction? "That is what makes our business exciting, the unknown," remarked Thomas.
Prime Capital Auto Lease recently leased a G63 AMG Mercedes to a Dallas Real Estate Executive & this was his prized trade in. "Not the usual 3 or 4 year old luxury car we normally take in trade," said Thomas. "This one required extensive research and appraisal time."
The high-end collector cars have fared well in the recent turbulent economy, with many ups & downs, however they have been a consistent good investment over the long haul. This car sold new for under $4000 (high in its day) and has appreciated $100,000 + over the years. It is a tangible, quality investment you can touch and enjoy anytime.
This beautiful 1957 Chevy Sport Coupe has the extremely rare, original 283 cid/245 high performance engine. The restoration of this vehicle was completed using only the most ridged and certified refurbishment guidelines. The quality originality and attention to detail of this superb 1957 Chevrolet Bel Air Sport Coupe are validated by the honors and awards it has achieved. This '57 Chevy champion is always covered and rests in a heated, air conditioned, humidity controlled garage and travels in an enclosed trailer.
This award-winning, 1957 Chevy will sell to the highest bidder live on primetime television Friday, September 6th. Mecum Auctions is hosting the event at the Dallas Convention Center.
The auction begins at 7 p.m. don't miss your chance to preview and bid on this extremely rare piece of automobile history. For more information and pictures, link to: http://www.mecum.com/auctions/lot_detail.cfm?LOT_ID=DA0913-167329&entryRow=207&lottype=&startRow=201.
http://primecapitaltexas.com/news-deals-specials/682-57chevy/