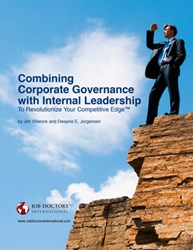 An individual can move a rock. The right team can move a mountain. The leadership team selects which mountain. The result revolutionizes your competitive edge. Governance helps you stay there.
Atlanta, GA (PRWEB) September 05, 2013
One reason most companies fail or have issues is due to people problems. Job Doctors International™ addresses the root causes of organizational issues for boards and CEOs by creating separate solutions for each issue. For the leadership gap, the new way of looking at leadership is called Human Investment Leadership™. For a lack of team and employee engagement, the new methodology is called Teampreneurship™. For a lack of employee alignment, engagement, and motivation, the new model is called Jobpreneurship™. When all three models are implemented, the results can dramatically improve a company's competitive focus and performance.
One reason why companies implementing corporate governance still experience significant risk and repeated compliance failure is because their people often look at governance as merely a set of guidelines required by regulations rather than as the intended risk management and controls needed for company and career success. Without company alignment, team engagement, and employee motivation, governance is typically only a box to check and not a driver to sustainable competitive growth. By combining Internal Leadership with Corporate Governance initiatives, the entire company begins to see governance as part of their personal career development success.
Job Doctors International™ new offerings include the combination of both the new Internal Leadership model and Corporate Governance to provide the strengths of high competitive growth with company-wide risk and compliance management.
To find out more about Job Doctors International™ new offerings, we are offering a free white paper entitled, " Combining Corporate Governance with Internal Leadership ".
For inquiries or for media coverage, please contact Jim Villwock, the CEO and Founder, at 678-485-1687 or email at Jim(at)JobDoctorsIntl(dot)com. For more information, please review the website at http://www.JobDoctorsInternational.com.
About Job Doctors International™, started in 2009, JDI combines thought leadership solutions with best-in-class third party partners to help companies optimize their future potential.