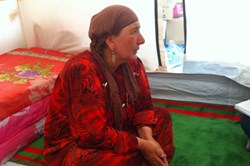 Sarasota, FL (PRWEB) September 03, 2013
Bruce Heller is leaving for Iraq today to deliver humanitarian aid to Syrian refugees living at the Krwigorsk camp as a volunteer response team member with international disaster relief organization, ShelterBox.
ShelterBox provides humanitarian aid—emergency tented shelter and other supplies, such as stoves, blankets and water purification units, among other tools—to help families rebuild their lives after losing their homes and possessions following a disaster such as earthquake, volcano, flood, hurricane, cyclone, tsunami or conflict.
ShelterBox has been responding to the Syrian refugee crisis since last fall, having committed over $1 million of aid to refugee families living in Lebanon, Jordan and Iraq, as well as those who remain internally displaced within Syria's borders.
As the world debates over military intervention in Syria following deadly attacks last week, ShelterBox has been in Iraqi Kurdistan responding to the influx of Syrians into the country, aiding people like Qadria (pictured), who now lives at the Krwigorsk refugee camp. She fled Damascus with her daughters after her house was looted and husband killed, making the journey to the border with Kurdistan by bus.
Heller is one of the organization's highly trained volunteer response team members, who work to ensure aid reaches the most vulnerable families and communities. Upon arrival in Iraq, he and his team will immediately begin to distribute ShelterBox aid to those in need.
This is Heller's fourth deployment with the organization—he has previously responded to disasters in Kenya, Peru and the Philippines. Heller owns the commercial real estate company, JaRyCo Development LLC, in Allen, TX, with his wife, Cindy.
ShelterBox continues to respond to this humanitarian crisis in Syria and its region as needs persist. The organization is also working to distribute aid following Typhoon Utor in the Philippines, as well as flooding in Sudan and Pakistan.
About Shelterbox
Since 2000, ShelterBox has provided shelter, warmth and dignity following more than 200 disasters in over 85 countries. ShelterBox instantly responds to earthquake, volcano, flood, hurricane, cyclone, tsunami or conflict by delivering boxes of aid and other supplies. Each iconic green ShelterBox contains a disaster relief tent for an extended family, stove, blankets and water filtration system, among other tools for survival. ShelterBox's American affiliate, ShelterBox USA, is headquartered in Sarasota, Florida. Individual tax-deductible donations to ShelterBox USA can be made at http://www.shelterboxusa.org or 941-907-6036.