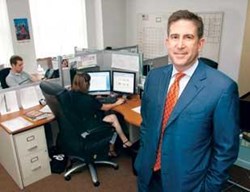 It makes it possible for budget-conscious districts to raise their math trajectory for a very low cost.
Pittsburgh, PA (PRWEB) September 05, 2013
Think Through Learning Inc., the award-winning, SaaS math instructional system, announced today that it has closed $5.6 million in Series B funding and welcomes SJF Ventures as an investor. SJF Ventures is a venture capital partnership that is focused on partnering with rapidly growing companies that address social or environmental problems. The funds will be used to innovate and maximize next generation technology to optimize learning and achievement.
"Think Through Learning and its flagship product, Think Through Math (TTM), provide an adaptive platform and impactful instructional design second to none," said Arrun Kapoor, Managing Director, SJF Ventures. "It makes it possible for budget-conscious districts to raise their math trajectory for a very low cost. I'm excited to partner with the team at Think Through Learning and I share their commitment to quality, innovation and student success."
Created by teachers and technologists, TTM provides supplemental math instruction and practice to help students in grades 3 through Algebra I prepare for the rigors of the Common Core State Standards, TEKS, and next-generation assessments.
Founded in 2002, the company has spent more than a decade solving the problem of math comprehension by integrating adaptive, online instruction with on-demand tutoring. TTM has grown to support more than two million students in 42 states. TTM students will complete more than half a billion math problems during the 2013-2014 school year. The Software & Information Industry Association named TTM a CODiE winner for Best Mathematics Instruction Solution. Kevin McAliley, CEO, and Louis Piconi, Senior Vice President and co-founder are co-finalists for the national Ernst & Young 2013 Entrepreneur of the Year Award.
"We have more than tripled in size from our last capital round two years ago and are honored that the investors from our last round have joined us again," said McAliley.
TTM supports blended learning by providing highly personalized, adaptive lesson pathways with direct instruction. As students work in the system, they receive immediate corrective feedback and have instant access to certified, U.S. math teachers, including bilingual teachers, for 90 hours a week.
TTM also features dynamic motivational tools including game mechanics and opportunities for students to participate in multi-state contests. Students can use points to earn rewards or make charitable donations. In late spring 2013, TTM students contributed more than $22,000 to Red Cross relief efforts in Texas and Oklahoma.
"We continuously research and create innovative ways to apply technology to optimize student's learning. Our goal is to integrate scientifically proven, research-based instructional design to build metacognition and higher-order thinking through interactions that require mathematical conceptualization, fluency and applications," said Janet Pittock, SVP Education, TTM. "We look forward to investing in interactivity that engages students, mirrors next-generation assessments, and addresses mathematics with rigor."
About Think Through Math
At Think Through Math, we believe that success in mathematics transforms the way students perform in school and beyond. We are driven to motivate students in unprecedented ways. We have a vision of effective education: a powerful blend of Web-based, adaptive instruction and on-demand, LIVE, state-certified teachers.
For more information, visit http://www.thinkthroughmath.com.
About SJF Ventures
SJF Ventures is a venture capital fund with offices in Durham, NC, New York and San Francisco. SJF has a 14-year successful record of assisting visionary and talented management teams in building industry-leading firms. SJF provides strong expertise and networks in the resource efficiency, sustainability and tech-enhanced services sectors. For more information, visit http://www.sjfventures.com. - See more at: http://www.sjfventures.com/sjf-ventures-invests-in-versify-solutions#sthash.eG7npnyH.dpuf