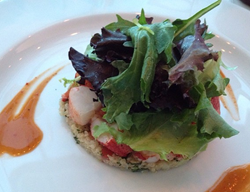 (PRWEB) September 05, 2013
Maine lobster delivery service, GetMaineLobster.com, understands the healthy benefits of lobster meat, which is why they have introduced a new healthy lobster recipe. The Get Maine Lobster with Golden Quinoa and Tomato Compote is not only delicious, but offers a healthy alternative with bursts of refreshing flavors.
The dish should be served with the meat of one 1.2- to 1.4-pound lobster per plate. GetMaineLobster.com often offers specials on lobster meat as well as live Maine lobsters, and even offers simple instructions on how to cook them here. Once the lobster meat has been prepared, cut into bite sized pieces in preparation for plating.
For the tomato compote, preheat the oven to 350 degrees. First, add one pound of halved tomatoes, one half of a finely diced onion, and one peeled and crushed garlic clove and season to taste with salt, black pepper and red pepper flakes. Next, place the mixed ingredients onto a foil-wrapped baking sheet with the cut side of the tomatoes facing up. Roast in the oven for 20 to 30 minutes until the onions have become golden and the tomatoes have developed a nice roast. Remove from the oven and cool slightly before removing the skin from the tomatoes and crushing them to produce the compote.
To make the Golden Quinoa, add one tablespoon of extra virgin olive oil to a small pot over medium heat. Next, add one cup of quinoa and begin to toast it slightly. Then, add one head of halved garlic and two bay leaves and continue to stir and toast for one minute. Add two cups of vegetable stock, season to taste with salt and bring to a boil. Then, reduce the heat to a simmer for 15 minutes until the quinoa is cooked. Finally, remove from the heat to cool down.
Finally, prepare a simple lemon vinaigrette by vigorously whisking one-third of a cup of lemon juice while slowly adding two-thirds of a cup of olive oil. In a mixing bowl, stir in the quinoa, lobster claw, knuckle and leg meat together with herbs and a little lemon vinaigrette. In another bowl, mix the diced lobster tail meat, two tablespoons of chopped parsley, three tablespoons of chopped mint and some diced cucumber together with the vinaigrette.
For plating, make a small round base of tomato compote. Using a ring mold, spoon in the mixed quinoa. Next, add a small layer of cucumber and season with salt and a pinch of sugar. Top that layer with the dressed Maine lobster tail and herb mix. Finally, top with micro greens that have been seasoned and dressed with lemon vinaigrette. Remember, when seasoning greens, you want them to be barely dressed, rather than soaking wet. Finally, remove the ring mold and serve this delicious and healthy lobster recipe to your friends and family!
To browse Get Maine Lobster's wide range of seafood offerings, and to access other healthy lobster recipes or view current specials, visit GetMaineLobster.com or call (866) 562-4817. Stay updated and Like us on Facebook or follow us on Twitter. For even more lobster news and recipes go to JustAddLobster.com.
About GetMaineLobster.com
GetMaineLobster.com, a division of Black Point Seafood and Black Point Gourmet, hand-selects the finest Maine lobster, seafood and beef products for convenient distribution throughout the United States. Their passion is to make fresh, quality seafood readily available to customers across the country, which is why they buy from only the most trusted, well-established suppliers to ensure that they receive the finest products available.
GetMaineLobster.com was selected out of the more than four million small American businesses served by Chase bank to represent its new Platinum Business Checking product for its 2013 national advertising campaign.