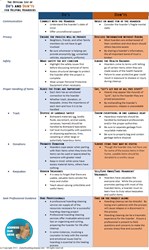 While the general public may be generally shocked and awed by the fact that a person has chosen to live in filth, the true headline should attract people to the idea of helping hoarders instead of gawking at them.
Mount Laurel, NJ (PRWEB) September 06, 2013
In a society that is heavily influenced by pop culture popularity, shock and awe are necessary to garner the attention necessary to make an impact on television viewers and consumers. All too often, headline-worthy topics are exploited to the general public for the instant attention they can muster without regard to the details of what made the topic interesting in the first place.
One of the hottest headlining topics in pop culture today is hoarding. A&E debuted their hit documentary-style television series Hoarders on August 17, 2009. Since then, people around the country have been infatuated with watching how filthy homes full of garbage, boxes, excessive amounts of clothing, and biohazards are deep-cleaned and gutted. What most viewers do not understand is that the people suffering from the hoarding condition featured in these episodes have developed this debilitating condition over many years. Not to mention, cleaning and recovering from the hoarding condition takes more than the 60-minute episodes imply.
Address Our Mess, a hoarding and clutter cleaning service expert with over twenty years of experience servicing their community, has devoted the better part of 2013 educating the public on the hoarding condition. The hoarding cleaning service specialists have developed a regular series of publications geared towards familiarizing hoarders and their helpers with topics that range from, "How to Help a Hoarder" to providing decluttering tips and support for those struggling with the recovery process.
Address Our Mess has dedicated its latest guide to clarifying what hoarding is and how people can either identify it in themselves or in those they are trying to help. "What is Hoarding?" is the perfect tool to use to begin the journey to a happier, healthier lifestyle.
Coupled with vital guides like, The Official Do's and Don'ts for Hoarders, people living with the condition in one capacity or another can finally understand what this age old condition really is and how to combat it in a healthy way. Even though the general public was formally introduced to the topic of hoarding in 2009, hoarding has been an ongoing struggle for sufferers since the dawn of recorded history.
It is important to remember that hoarding is indeed a mental health condition and, in most cases, occurs due to a severely traumatic event in the life of the sufferer. With the publication of the American Psychiatric Association's DSM-V (Diagnostic and Statistical Manual of Mental Disorders Volume 5), the mental health community has finally acknowledged that not only is hoarding a condition of its own, but it is a condition that must be studied and nurtured properly in order to help its sufferers live out healthier lives.
Once thought to be a mere symptom of Obsessive Compulsive Disorder (OCD), hoarding is a challenge that seemingly anyone can be faced with. No known links to hereditary inheritance have presented themselves and, while some children of hoarders may become hoarders themselves over time, learned behavior cannot be blamed for an outbreak.
Instead, hoarding is usually linked to trauma that has occurred in a person's life in some form or another. While some traumatic events can be easy to pinpoint like losing employment, death of a loved one, or living through a traumatic experience like rape or a natural disaster, it is important to understand that different people respond to different occurrences in unique ways. What may seem traumatic to a hoarder may have had little to no effect on a friend or loved one if it had happened to them instead.
By using Address Our Mess' visual guides like "What is Hoarding" and supplemental tools like "The Official Guide to Animal Hoarding," sufferers of the condition and their helpers alike can build an all-important bond of trust between them. This bond is crucial when trying to figure out what caused the condition to grow in the manner that is has and how to figure out a way to end it.
While the general public may be generally shocked and awed by the fact that a person has chosen to live in filth, the true headline should attract people to the idea of helping hoarders instead of gawking at them. In the past, a hoarder may have been that eccentric neighbor that lived far away who no one cared too much about. Now, hoarders can be living right next door. They can be friends or even family members. With the help of Address Our Mess' publications, hoarders can rest easy knowing that choosing to live a happier, healthier life is easier than ever before.