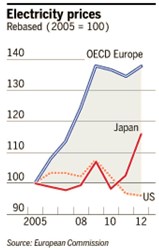 We've been telling people for over a decade that the sun is the main driver of climate change. Not you or CO2.
Calgary, Alberta, Canada (PRWEB) September 05, 2013
Bloomberg Aug. 29, 2013 is reporting that global governments are asking serious questions of the Intergovernmental Panel on Climate Change (IPCC) in advance of the upcoming release of a new report. Friends of Science say the current 16 year period of no global warming as reported in the Daily Mail October 13, 2012 (despite a rise in carbon dioxide – CO2) would seem to invalidate the theory that carbon dioxide causes global warming in any catastrophic way.
"Governments have relied on IPCC computer model predictions and instituted sweeping climate policies and GHG reduction targets," says Len Maier, president of Friends of Science.
Maier points out: "These policies have significantly affected taxpayers, energy providers and industry, world-wide. Now it appears these extreme climate change measures were based on unreliable computer models that did not factor in natural attributes appropriately."
A study by German researchers revealed that 65 climate models failed to predict the current hiatus.
Germany is abandoning many of its climate change policies and is presently building some 25 coal plants as reported in Forbes as early as August 31, 2012. Bloomberg reported on April 24, 2013 that carbon emissions prices in Europe collapsed this spring from a price of 34.90 euro per unit in 2008 to just 3.06 euro.
In addition to this, the Dutch government issued a direct statement to the IPCC recently stating: "The IPCC needs to adjust its principles: " We believe that limiting the scope of the IPCC to human induced climate change is undesirable, especially because natural climate change is a crucial part of the total understanding of the climate system, including human-induced climate change."
The IPCC was established with a mandate to examine factors "relevant in understanding human-induced climate change, its potential impacts, and options for mitigation and adaptation" not natural factors.
Over the years, Canada has expressed concern that climate accords like the Kyoto Protocol could economically damage the nation; in 2011, the Harper government withdrew from Kyoto to avoid paying $14 billion in penalties for failing to meet greenhouse gas emission reduction targets. Kyoto did not lead to a reduction in CO2.
At the time environmentalists widely condemned Canada.
"Kyoto would have penalized Canada for providing the world with necessary resources. Pulling out of Kyoto was sensible. We, Canadians are also leaders in resource management and reclamation," says Maier, himself a veteran environmentalist who was involved in capping hundreds of blow-out wells in Kuwait following the first Gulf War.
Forbes reported Feb. 13, 2013 that a peer-reviewed study of Alberta, Canada's army of earth scientists and engineers have mostly been skeptical of those who hype global warming with scaremongering. Most point to the graph of the Holocene Epoch that stretches back 11,500 years. Ancient fossil and isotopic evidence show historic extremes of climate change, long before human use of fossil fuels.
Says Maier, "We've been telling people for over a decade, the sun is the main driver of climate change. Not you or CO2."
About the Friends of Science
Friends of Science have spent a decade reviewing a broad spectrum of literature on climate change and have concluded the sun is the main driver of climate change, not CO2. The core group of the Friends of Science is made up of retired earth and atmospheric scientists.
Contact:
Friends of Science Society
P.O.Box 23167, Connaught P.O.
Calgary, Alberta
Canada T2S 3B1
Toll-free Telephone: 1-888-789-9597
Web: friendsofscience.org
E-mail: contact(at)friendsofscience(dot)org