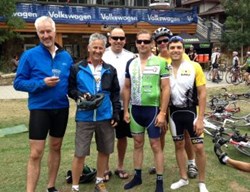 It was a great opportunity to get together with colleagues outside of work and participate in a sport we are all very passionate about. - Daniel Kahn, Delivery Consultant, Statera
Englewood, CO (PRWEB) September 05, 2013
Statêra, "We Make Cloud and IT Services Easy™," had seven employees ride in the Copper Triangle Alpine Cycling Classic on August 3, 2013. This annual ride covers 78 miles, 3 mountain passes, through some of the most beautiful landscapes in Colorado. The course is a loop that begins at Copper Mountain, runs south to Leadville, north to Vail, and ends back at Copper Mountain. The mountainous terrain makes this ride one of the most difficult in Colorado.
Thanks to Statêra's strong commitment to health and wellness, cycling is a favorite hobby around the office. The Copper Triangle is one of several cycling events that Statêra employees take part in every year.
"It was a great opportunity to get together with colleagues outside of work and participate in a sport we are all very passionate about," recounted Daniel Kahn.
The Copper Triangle is not only an enjoyable ride, but also an opportunity to show support for everyone battling Parkinson's disease. Donations made to the Davis Phinney Foundation help to fund research in search of the cure to Parkinson's, a disease that plagues more than a half million Americans.
About The Davis Phinney Foundation
The Davis Phinney Foundation was created in 2004 to support Parkinson's disease research and improve the lives of those challenged by the disease. The Foundation raises vital dollars to help fund the research of curative therapies for Parkinson's patients and investigations into the causes of the disease. Even after his life-altering diagnosis with young-onset Parkinson's disease at age 41, Davis has continued to focus on the many positive aspects of his life, and is encouraging thousands worldwide to do the same.
About Statêra
Statêra is a leading IT services provider that helps companies to optimize performance by mapping strategic goals and objectives to IT initiatives. With over a decade of experience, Statêra leverages best practices and uses today's top technology solutions to provide powerful insight into your enterprise, solve your mission-critical problems, drive return on investment and transform your business. We are experts in moving our clients to the Cloud, CRM, web and mobile platforms, and collaboration software, as well as custom software applications development. Our IT services, IT project management, strategy consulting and managed cloud services brokerage balance people, processes and technology to get your technology needs met on time and on budget. Headquartered outside of Denver, Colorado, Statêra has local offices in Dallas, Texas; Phoenix, Arizona; Salt Lake City, Utah; and Seattle, Washington, and clients worldwide. Call us at 1.866.697.0266 or visit http://www.Statera.com.