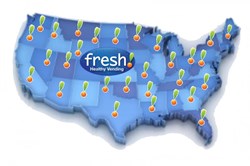 San Diego, CA (PRWEB) September 05, 2013
(OTC Markets: GEEM) http://www.freshvending.com In the month of August alone, Fresh Healthy Vending contracted 92 new locations for their franchisees healthy vending machines. From college campuses to police departments, the company continues its quest in making healthy and convenient snacking easier than ever.
One of last month's new locations, Arizona College located in Mesa, AZ, will give students the option to enjoy a protein bar, smoothie, yogurt or sugar-free natural energy drink in-between classes; a welcome convenience when busy schedules afford little time or opportunity to partake in a full meal at any hour, let alone while on campus. Last month, new machines were also introduced into a number of charter, middle and high schools.
In keeping with the company's target location placement strategy, new machines were placed in dance and gymnastic studios as well as fitness centers. New placements included the New England Ballet Company in Orange, CT; Dance Conservatory of NY Inc. in Long Island, NY; Flips Gymnastics in Highland Park, IL; Rogue Athletics, Inc. in Plano, TX; and the Title Boxing Club-Uptown in McKinney, TX. These locations give fit and health-conscious consumers snacking options, which suit their active lifestyles.
New locations for machines are as varied as the natural, organic and tasty snacks and drinks contained within. The Mall of America in Edina, MN will soon offer healthy items as an alternative to fat-laden potato chips and sugary candy bars. Fresh Healthy Vending also secured a placement in Dale Bros. Brewery in Chino Hills, CA.
Closer to the company's home base in San Diego, Fresh Vending machines will soon be installed in the La Jolla International Gardens, Bellus Academy and Embry-Riddle Aeronautical University. Contrary to the age-old donut stereotype, Rancho Cucamonga's Police Department will soon have a Fresh Vending machine to help keep their officers fit and energized while protecting and serving.
Alex Kennedy, Fresh Healthy Vending CEO, says the sales results each month are indicative of current market acceptance reaching an all time high.
"Every month we seem to find our way in to an even more diverse selection of location categories," said Kennedy. "My team is solely focused on securing captive audience locations catering to hungry, healthy consumers with a high volume of foot traffic."
Over 45 new markets throughout the US welcomed Fresh Healthy Vending into their communities last month. If healthy snacking isn't currently available in a location near you, it is fair to say you can expect one soon.
About Fresh Healthy Vending
Fresh Healthy Vending is dedicated to combating obesity by providing nutritious foods from healthy vending machines. The company has over 200 franchisees positioned throughout North America, Puerto Rico and the Bahamas.
About FreshandHealthy.org
FreshandHealthy.org is a dedicated resource available to locations around the world seeking a healthy vending program. The program offers financial grants and incentives to locations that qualify. Visit http://www.freshandhealthy.org to learn more.
For more information about Fresh Healthy Vending visit http://www.freshvending.com. To inquire about receiving a free Fresh healthy vending machine, visit http://www.freshandhealthy.org or call toll free 888-902-7558.
Forward-Looking Statement Notice
This press release includes "forward-looking statements" as defined by the U.S. Securities and Exchange Commission (SEC). All statements, other than statements of historical fact, included in the press release that address activities, events or developments that the Company believes or anticipates will or may occur in the future are forward-looking statements. These statements are based on certain assumptions made based on experience, expected future developments and other factors the Company believes are appropriate under the circumstances. Such statements are subject to a number of assumptions, risks and uncertainties, many of which are beyond the control of the Company and may not materialize. Investors are cautioned that any such statements are not guarantees of future performance. The contents of this release should be considered in conjunction with the warnings, risk factors and cautionary statements contained in the Company's recent filings with the SEC. Furthermore, the Company does not intend, and is not obligated, to update publicly any forward-looking statements, except as required by law.