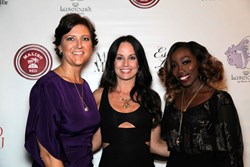 When I saw the gorgeous Stars of Africa jewelry Lita designed I fell in love with the pieces and knew I wanted to incorporate them into our new collection. Lita and I had an instant design connection.
New York, NY (PRWEB) September 05, 2013
No. 8 was the hotspot last night in New York, when over 150 guests crowded into the REC room to see the unveiling of two new jewelry collections. The theme that brought these three dream chasing women together: "Live your dream, wear your passion. Be anyone you want to be…"
Estelle and Lita Asscher came together 6 months ago to combine their passions for creativity and beauty. Both from different parts of the world, no place other than New York City could serve as a better source of inspiration for the duo, with its impressive skyline showcasing an array of design styles side by side, demonstrating the evolution of the vibrant, exciting city, much like Estelle and Lita combining their unique, diverse styles into one cohesive, inspiring collection. Grammy winner Estelle says, ``When I saw the gorgeous Stars of Africa jewelry Lita designed I fell in love with the pieces and knew I wanted to incorporate them into our new collection. Lita and I had an instant design connection and we had a great time combining our
inspirations and styles.´´
The collection consists of several pendants, some incorporating the exciting concept of Royal Asscher´s Stars with floating diamonds and amethysts, rings that reach over the length of your finger and beautiful bracelets and earrings with purple amethyst and black and white diamond details. The collection will launch online in 4 weeks and in stores after. The price points start at $650 and run to $9800.
Lusciouss by Kendra Bridelle will be launching her newest stately steel collection called "Seductive Siren" on HSN Monday, September 16th from 1-2pm EST. Following her tagline; "For the girl I was, the woman I am and the Goddess I'm destined to be…" Kendra believes in expressing oneself through the jewelry she wears. Each collection is inspired by a different emotion a woman feels and each collection has its own design motif. On the 16th Kendra will be focusing on her Seductive Siren collection inspired by the deep blues and greens of the Mediterranean Sea. Designs resemble a siren swimming through LusciousS waters. Price points are between $20 - $150 retail. This line is sexy, bold and feminine. Bridelle will also be selling her Goddess Collection, influenced by Venus, the Goddess of Love, starring flirty and fun blazing red hearts. The LusciousS jewelry collection offers affordable fashion while providing red carpet looks.
For more information on:
Royal Asscher, visit http://www.royalasscher.com
Lusciouss, visit http://www.lusciouss.com
Editors notes:
CONTACT
Contact details for PR support:
Nicole Porto
Nicole@royalasscher.com
Tel: +1 212 922 1908
Kendra Bridelle
Info@lusciouss.com
Tel: +1 646 707 0153
ABOUT ROYAL ASSCHER DIAMONDS
Founded in 1854, Royal Asscher Diamond Company is run by The Asscher Family. The Asscher Family dynasty to this day continues to have an influence on the diamond industry. Joseph Asscher, at the request of King Edward VII, cut the largest diamond ever found, the famous 3,105-carat Cullinan diamond. Royal Asscher has also made its mark by refusing to work with conflict diamonds that originate from war torn countries that are unethically sourced and sold to fund warfare and civil destruction. Royal Asscher only sources diamonds from nations that are fully compliant with the Kimberly Process, an international diamond industry initiative to stop the flow of conflict diamonds. One of the company's founding fathers, Edward Asscher was one of the forefathers of this initiative, Royal Asscher requires that all of its diamonds are labeled by the government at the origination point and securely sealed during transportation.
Royal Asscher created their own signature patented cut in 2001, which has 74 facets, that's 16 more than the traditional cut diamond. It is based on their original Asscher cut dated 1902. The innovation and skill level of Royal Asscher has been passed down from generation to generation. Now on its 4th generation owners the companies still upholds their reputation for excellence.
The Stars of Africa collection (comprised of rings, earrings, pendants and cufflinks) consists of diamonds encased within fluid-filled sapphire domes, allowing the diamonds to float freely like snowflakes in a snow globe. The result is cascading diamonds that emit light, fire and beauty, creating a truly mesmerizing effect.
Royal Asscher Diamonds are not only a favorite amongst royalty; celebrities also covet these specialty pieces from their contemporary line Stars of Africa. Celebrities who love Royal Asscher diamonds include Sofia Vergara, Megan Fox, Kate Bosworth, Carrie Underwood, Emily Blunt and Rachel McAdams.
WEBSITES
Royal Asscher of America: http://www.royalasscher.com
ABOUT KENDRA BRIDELLE
Kendra Bridelle is a jewelry designer who has been working in the jewelry industry for over 15 years. She is the International Immediate Past President of The Women's Jewelry Association and has worked at luxury and fashion brands including Richemont brand, Montblanc, Robert Lee Morris and for a DTC Sightholder, Tache. Kendra launched her own jewelry line, LusciousS four years ago and has since become known for dressing young Hollywood actresses, models and reality stars including Leven Rambin, Allie Rizzo, Nana Merriweather, Sofia Milos, Karina Smirnoff, Brandi Glanville, Ali Fedotowski, Elisha Cuthbert, Lisa Raye McCoy, Beverley Mitchell, Angeline-Rose Troy and many more in LusciousS jewelry. Her stately steel (stainless steel) line of jewelry for LusciousS is sold exclusively to HSN. Bridelle is in the process of launching a new fashion line of jewelry called, Kendra Bridelle.
SOCIAL MEDIA SITES
LusciousS by Kendra Bridelle: http://www.LusciousS.com
Twitter: LuscioussIntl
Facebook: LusciousS
Instagram: KendraBridelle
ABOUT ESTELLE
Estelle's climactic rise from local West London MC to Grammy Award-winning artist is the stuff of legends. Born the second of eight children in a strict religious Senegalese/Grenadian family, Estelle learned early on to escape life's daily pressures through music. Her second studio album "Shine" was released under John Legend's new Homeschool label, in partnership with Atlantic Records. Her hit single "American Boy," a collaboration with rapper Kanye West, won a Grammy Award for Best Rap/Song Collaboration. With her third album, All of Me, Estelle gave fans an in-depth look into her soul. The first single, "Break My Heart," served as the magnetic centerpiece of the album, and her second single "Thank You," was a heart-warming, soul quenching song that showcased her amazing vocal ability.
Coming back stronger than ever summer 2013, Estelle recently released the first volume Love Jones Vol. 1 from her 3-volume EP, "Love & Happiness". The first single "Call These Boys," an upbeat club banger, was an instant hit as it spoke from a single girl's perspective on dating. Later this summer and fall, Estelle will be releasing Waiting to Exhale Vol.2 and How Stella Got Her Groove Back Vol.3.
Estelle continues to dedicate herself to a myriad of philanthropic organizations including her own, All of Me Foundation, with the goal of educating, enlightening, and expanding the horizons of young people.