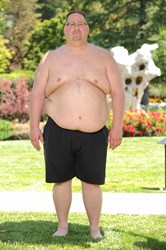 I'm convinced having Chris as a coach saved my life and started me on a pathway to healthy living. I'm on a mission to help others succeed like Chris helped me.
Fort Collins, CO (PRWEB) September 06, 2013
Bob Brenner, the Season Three finale record-breaker on the hit reality television series "Extreme Weight Loss," was so profoundly transformed by his experience on the show he announced plans to become a certified life coach to help others realize weight loss success.
To achieve his Life Coach Certification, Brenner is partnering with Coach Training Alliance, one of the top credentialed coaching schools in the nation with more than 8,000 graduates practicing in 13 countries around the world. Brenner is expected to earn his Life Coach Certification from the Colorado-based school in November.
During his 365-day journey on "Extreme Weight Loss," Brenner lost a record-breaking 253 pounds on the show – or 56% of his body weight – through a commitment to healthy eating, regular exercise and mental perseverance.
Brenner cites the strong relationship he developed with trainer Chris Powell, host of "Extreme Weight Loss," as key to his remarkable transformation. Before meeting Powell, Brenner tried every fad diet and pill, and was convinced he was a failure at losing weight. As a last resort to regain his health and personal integrity, Brenner swallowed his pride and reached out to Powell and "Extreme Weight Loss" for help. Brenner feels the combination of positive encouragement, education, perseverance and personal accountability fueled the mental shifts necessary to achieve his wellness goals.
"There is such a mental component to weight loss. The one-on-one guidance I received from Chris was the game changer that made my transformation possible and gave me a new purpose in life," said Brenner, a former All-American offensive lineman and high school football coach for 15 years from Waukesha, Wisconsin. "I'm convinced having Chris Powell as a coach saved my life and started me on a pathway to healthy living. I'm on a mission to help others succeed like Chris helped me."
Brenner feels compelled to give back, and is eager to share what he learned from his remarkable weight loss journey. Because public speaking and life coaching are critical to fulfilling his new purpose, Brenner is pursuing the professional knowledge and certification to do it right. There are people without professional training who call themselves life coaches, and that does not sit well with Brenner. The man who lost 20 inches from his waistline during a yearlong fight for his life does not take short cuts.
"My desire to receive proper training and certification came from the same place of integrity that inspired my weight loss of 253 pounds," said Brenner. "To become the most effective life coach I can be for people, it's critical I invest time and energy in becoming professionally trained and prepared."
Brenner has a friend who became a successful coach through Coach Training Alliance, so the former Waukesha County Sheriff's Department detective thoroughly checked out the organization before he enrolled.
"I looked into other coaching programs, but CTA's admissions staff, faculty, content and methods are first-class, and so relevant," said Brenner. "There was no competition."
Although Brenner's new coaching business "iCoach Transformation" is based near Milwaukee, Wisconsin, his public speaking, coaching practice and upcoming book will reach individuals across the country and around the world. As the weight loss record-setter from Season Three, Brenner hopes to offer motivation and support to those who appear on Season Four of "Extreme Weight Loss." Brenner also plans to pursue ongoing professional development with Colorado's Coach Training Alliance, which he considers the top coaching certification program in the country.
###
About Coach Training Alliance
For more than a decade, Coach Training Alliance (CTA) has trained and certified more than 8,000 of the finest professional educators, mentors, coaches and facilitators in the coaching industry. CTA's award-winning faculty members are practicing, "real-life" coaches who are recognized, published leaders in their fields. Together, they develop and offer ultimate coach training programs delivered to students in the most economical and efficient way. Each course is condensed into a streamlined, step-by-step process that enables just-in-time learning that is unparalleled in the industry. In addition to learning essential coaching skills, participants also gain valuable business and marketing knowledge to ensure a successful practice. With offices in Fort Collins and Boulder, Colorado, CTA's coaching program is approved by the International Coach Federation. CTA is identified as one of the "Top 10 Coaching Schools in the World" according to the industry group Who's Who in Coaching. The mission of CTA is to provide eager students a dynamic learning environment, using the latest educational technology, in the shortest amount of time, for the most reasonable economic investment. Learn more at http://www.coachtrainingalliance.com.
About iCoach Transformation
iCoach Transformation provides professional coaching to motivated men and women who are ready to live their best life. Founded by transformation specialist Bob Brenner, iCoach Transformation collaborates with clients to recognize obstacles, create strategy, develop action plans, reach goals, build confidence and achieve personal transformation through guidance, discovery, support and accountability. Learn more at http://www.icoachtransform.com.