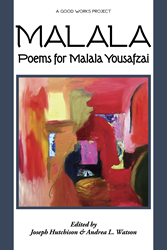 One child, one teacher, one book and one pen can change the world.
Hayesville, North Carolina (PRWEB) September 06, 2013
On October 9, FutureCycle Press honors courageous Pakistani girl with a "Good Works" anthology benefitting her Malala Fund for girls' education.
FutureCycle Press (http://www.futurecycle.org), a nonprofit publisher of poetry and flash fiction, will launch its first Good Works project, MALALA: Poems for Malala Yousafzai, on October 9. This is the one-year anniversary of Malala's shooting by the Taliban for speaking out for the right of girls to pursue an education. Edited by Joseph Hutchison and Andrea L. Watson, women and men all over the world contributed work for this anthology, and any profits from its sale will be donated to the Malala Fund (http://www.malalafund.org).
Since the age of 11, Malala Yousafzai has been an outspoken advocate for the right of girls in her Swat Valley region of Pakistan to attend school. Since the 2012 shooting, intended by the Taliban to silence her, Malala has emerged as a powerful leader and voice for girls and women worldwide. On her sixteenth birthday, this past July 12—declared Malala Day by U.N. Secretary-General Ban Ki-moon—Malala addressed the United Nations to call for the support of all governments to help girls and women flourish. One of Malala's statements has become a rallying cry, bringing hope to all: "One child, one teacher, one book and one pen can change the world."
Those poets who contributed work to the MALALA anthology believe in the power of words to make a difference. The response to the call for submissions was steady and inspiring. "With Good Works, I wanted to provide a way for poets and writers to lend their voices but also help contribute monetarily to causes they care about," says Diane Kistner, Director of FutureCycle Press and the mastermind behind the projects. "With an issue-oriented anthology like MALALA, they have a place to submit their work for publication, but they also know that we are dedicating all profits from sales to a related worthy cause."
The press's next Good Works project, Kistner notes, is HOMELAND: Writings About Homelessness. As with MALALA for education, FutureCycle Press will donate all proceeds from HOMELAND to help alleviate homelessness. "To raise awareness and reach a larger audience," Kistner adds, "we plan to make free PDFs of all of the anthologies available on the Good Works tab of our web site as they are published. Deadlines and submission guidelines for open projects are also on this tab."
The paperback and Kindle editions of MALALA will be sold on Amazon.com. Reviewers can obtain an Advance Reader's Copy (PDF) by emailing Diane Kistner with "Request for Malala ARC" in the subject line or by downloading the MALALA Preview. For media inquiries and interview opportunities, contact Andrea L. Watson.