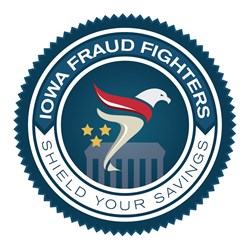 Con artists are targeting Americans age 60 and older, swindling more than 5 million Americans out of almost $3 billion each year.
Des Moines, IA (PRWEB) September 09, 2013
Iowa Insurance Commissioner Nick Gerhart announced today that the Iowa Insurance Division (IID) has launched the statewide "Iowa Fraud Fighters – Shield Your Savings" public education program. The program will educate and empower Iowans to combat and report investment and insurance fraud.
Con artists are targeting Americans age 60 and older, swindling more than 5 million Americans out of almost $3 billion each year, according to a 2009 Metlife study.
"Unfortunately, many smart Iowans have fallen victim to these very slick and sophisticated investment scammers, and some have lost their entire life savings," said Commissioner Gerhart.
Martha-Jo Ennis, a retired school teacher from Marion, Iowa, said she never understood how anyone could fall for an investment scheme until it happened to her—and she lost her retirement savings and an inheritance.
According to court records, Ennis was one of numerous Iowa victims who lost millions of dollars in a Ponzi-type scheme orchestrated by Noah Aulwes, former owner of Covenant Advisors of Cedar Rapids, Iowa. Aulwes plead guilty last year to theft in the first degree, securities fraud and money laundering and received a prison sentence of up to ten years, according to Linn County District Court, case FECR92810.
According to victim impact statements read during the sentencing hearing, Aulwes preyed on retirees, using charm and Christianity to get a foot in the door and gain victims' trust to invest in hedge funds, real estate, private venture and other sub-funds through Covenant's private placement fund.  
"Noah presented seemingly good investments, like buying foreclosed homes to be resold for a profit; but unfortunately the profits were only on paper, and when we tried to get our money out, it was gone," said Ennis. "When you think you have yourself set up for retirement and have it taken from you—you feel nothing but anxiety and fear. It's ruined my life and has wrecked my relationships with my family."
According to Commissioner Gerhart, Iowans need to take the time to double-check investment offers and verify whether the adviser and offer are legitimate. The Iowa Insurance Division has created a website, http://www.IowaFraudFighters.gov, to help educate Iowans on common investment and insurance scams and provide tips to prevent fraud, verify investment offers and report fraud. The site includes answers to frequently asked questions and a checklist of information to gather from investment advisers to verify the legitimacy of the offer and ensure the investment adviser is licensed.
The "Iowa Fraud Fighters—Shield Your Savings" program also includes six consumer outreach and educational forums across the state, with the first forum kicking off at Park Place Event Centre in Cedar Falls on Sept. 24. Forums will also take place at the Sioux City Convention Center on Oct. 29, Honey Creek Resort in Moravia on Nov. 21 and three additional locations in spring 2014.
"These forums give Iowans the opportunity to speak with several government agencies and learn about the state resources available to help prevent fraud from happening to them or a loved one," said Gerhart. "We also want Iowans to know we are here to help them take charge in the fight against fraud and report fraud when it occurs."
Commissioner Gerhart, Department on Aging Director Donna Harvey and representatives from Iowa Attorney General Tom Miller's office, Area Agencies on Aging and Senior Health Insurance Information Program (SHIIP) will present the program. Registration begins at 11:30 a.m., lunch and presentations conclude at 1:30 p.m. and informational booths staffed by agency representatives and AARP, a forum assistance provider, will close at 2 p.m. To RSVP for the kick-off presentation and complimentary luncheon, call toll-free at 866-559-7114 or visit IowaFraudFighters.gov by Sept. 19.
In addition to the community forums, brochure and website, the public education program includes a TV and newspaper public service advertising campaign that runs through May 2014.
About Iowa Insurance Division
The Iowa Insurance Division (IID) has general control, supervision and direction over all insurance and securities business transacted in the state, and enforces Iowa's laws and regulations. The IID investigates consumer complaints and prosecutes companies, agents and brokers engaging in unfair trade practices. Consumers with insurance or investment questions or complaints may contact the IID toll-free at 877-955-1212, or visit the division on the Web at http://www.iid.state.ia.us.