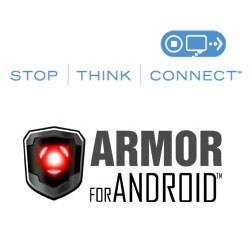 To begin our partnership with STOP. THINK. CONNECT. we wanted to bring awareness to Android users about the importance of updating their operating system
(PRWEB) September 06, 2013
Armor for Android today announced that it has become a partner of STOP. THINK. CONNECT., the global cybersecurity awareness campaign.
Armor for Android is joining STOP. THINK. CONNECT.'s Partner Program to help promote the importance of online safety. The official U.S. cybersecurity awareness campaign since October 2010, STOP. THINK. CONNECT. advises all Internet users to take security measures, understand the consequences of their behavior and actions and enjoy the benefits of the Internet.
The Partner Program aims to address the worldwide problems of online security and cybercrime by harmonizing messaging across the globe. Partners of STOP. THINK. CONNECT. gain exclusive access to content, templates and other resources to make it easy for them to co-brand with the campaign.
Armor for Android, one of the world's fastest growing Android mobile safety companies, used that exclusive access and their own industry research to publish an infographic illustrating the growth of mobile malware over the last few years.
"To begin our partnership with STOP. THINK. CONNECT. we wanted to bring awareness to Android users about the importance of updating their operating system," said Chris Walbom, chief executive officer of Armor for Android. "This simple but effective solution is crucial to stopping unwanted malware and Trojans from infecting devices."
This infographic is the latest resource aligned with STOP. THINK. CONNECT.'s "Keep A Clean Machine" initiative, encouraging users to take precautions that protect devices from malware, viruses and other online threats.
The infographic can be downloaded at http://staysafeonline.org/blog/updating-android-os-key-to-beating-trojans-and-malware.
To learn more about STOP. THINK. CONNECT. and the Partner Program, visit: http://stopthinkconnect.org/get-involved.
And to learn more about Armor for Android and how to protect Android devices, visit http://www.armorforandroid.com/protection-center/.
About STOP. THINK. CONNECT.
The campaign launched in 2010 and was developed by the STOP. THINK. CONNECT. Messaging Convention, a public-private partnership established in 2009 and led by The Anti-Phishing Working Group (APWG) and National Cyber Security Alliance (NCSA) to develop and support a national cybersecurity awareness campaign. The Department of Homeland Security provides the Federal Government's leadership for the campaign. Industry, government, non-profits and education institutions participate in STOP. THINK. CONNECT.
About Armor for Android
Armor for Android was founded on the ideal of providing complete mobile protection to consumers across the globe. As we saw the rapid growth of Google's Android operating system, we knew that the world was and is rapidly headed to a future where literally billions of its citizens will be carrying an Android device and be completely trusting of it with the most important aspects of their life. The security and digital protection of those users and their data is our highest priority.