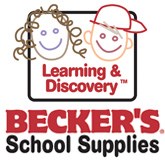 (PRWEB) September 12, 2013
This past July, Becker's School Supplies launched its redesigned website, http://www.shopbecker.com, which makes it easy for teachers and parents to shop for school supplies online. In addition to school supplies, the website also offers educational materials and free learning activities that help teachers and parents foster a creative learning environment for children.
"After more than a year of hard work on the website, our team is excited to show teachers and parents everything that Becker's School Supplies has to offer online," says George J. Becker, President of the 85-year-old family business.
Among those offerings is a more expansive list of product categories, such as "Decoration and Display" and "Special Needs & Inclusion." It also offers a new "Resources Café," which provides step-by-step guides to classroom activities, children's book recommendations, snack ideas and classroom supply lists by age group. There is also a special resources section exclusively for parents, which offers educational materials and tools to help them bridge the gap between school and home learning.
Teachers and families shopping on a budget can utilize the Clearance page on the website to find discounted school supplies online, or print coupons to bring in to any of Becker's School Supplies' brick-and-mortar store locations. Becker's School Supplies has eight teacher/parent stores in Pennsylvania, New Jersey and Delaware.
In addition to its retail stores, redesigned website and catalog, Becker's School Supplies also launched social media brand pages on Facebook and Pinterest, in order to further engage with teachers to share ideas, inspiration and insight.
"We hope to build the same trusted name and strong community online as we've already established through our store locations," Becker says.
____________________________________________________________________________
About Becker's School Supplies
A family business, Becker's School Supplies was founded in 1928 by Charles J. Becker, Sr. Today, the company is still family-owned, with Charles Sr.'s grandson George as President and his nephew Al Jr. as Vice President.
Although it now offers thousands of specialty products to children, teachers and families, Becker's School Supplies still abides by the same set of values as it did 85 years ago: To provide each customer with personal attention and to treat them with the utmost respect.
With eight store locations in Pennsylvania, New Jersey and Delaware, print catalogs and its website, Becker's School Supplies takes pride in serving schools, teachers and families nationwide, dedicated to helping students learn and grow.