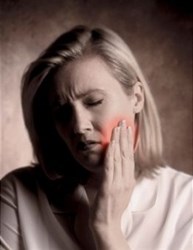 Boston, MA (PRWEB) September 10, 2013
Masha Banar, PA-C, is well known in Boston for non-surgical innovations when it comes to keeping her patients young and beautiful. One of the procedures offered is non-surgical jaw reduction. A serendipitous side effect was resolution of teeth grinding. Particularly one patient who suffered from Temporomandibular Joint Syndrome reported less pain in the jaw and fewer morning headaches. This painful condition is so common and the treatment was so long awaited for in Boston it instantly got publicity. ABC Channel 5 did a story featuring Masha's easy solution to this condition, and the suffering patients started to come in (ABC News segment on Visage Sculpture offering TMJ treatment).
According to National Institute of Dental and Craniofacial Research, over 10 million Americans are affected with TMJ (link).
"It's very rewarding to hear that for several months my patients concentrate on their lives and not on constant pain" Banar says.
About Visage Sculpture
Visage Sculpture is premier Cosmetic Center dedicated to helping people look and feel more attractive, refreshed, and youthful in the most natural gentle way. Founded by Masha Banar, Board Certified Physician Associate, with more than a decade of experience in Plastic and Reconstructive Surgery, it has been featured on ABC News for its unique alternatives to surgical procedures.
Masha is a National Educator for Sculptra Aesthetic and teaches facial anatomy and injection techniques to Physicians and Nurses. Her extensive experience combined with artistic background and intuitive appreciation of proportions of the face brings ease to all procedures offered.
Complimentary consultation can be scheduled by calling at (617)501-7055 or via e-mail. Office is located at 31 Channing Street, Newton Corner, MA 02458.