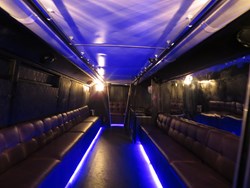 You have never been on a London bus like this before! It's a fashion statement in itself… with all the mod cons of a very impressive and stylish Mayfair pad.
London (PRWEB UK) 10 September 2013
The Vault London ("TVL") is excited to announce its sponsorship of the fourth edition of FashionTV and FashionBoxx's seasonal London Fashion Week show and after party.
Since Spring/Summer 2012-13, FashionTV and FashionBoxx have hosted a series of glamorous off-schedule fashion shows and after parties titled: Invite AW/SS AfterParty (AW/SS corresponding to London Fashion Week season Autumn/Winter or Spring/Summer). FashionTV and FashionBoxx Invite AW/SS AfterParty are held exclusively in Central London during the heart of London Fashion Week and feature a selection of emerging international designers with unique haute couture and ready-to-wear designs.
This season's Invite SS14 AfterParty is featuring the unique collections of five talented designers – KV Courture, Daisy, Kenguru Fashion, IV Cuff and Adam. The show will be at Mint Leaf where an array of photographers, press, and media partners are expected to join over 400 guests. On the evening, London's most exquisite transportable members club, The Vault London, will play host to 50 lucky VIP guests and models who will travel in the lap of luxury from the fashion show to the official after party at the Rose Club in Mayfair. Lending its extravagant leather seating and VIP areas just for the occasion, guests will be transported across London in unparalleled comfort and style.
Since its inception, TVL has been known for providing some of the most unique evening experiences in London. Its traditional London red bus exterior masks an unbelievably opulent interior rivalled only by luxury yachts and private jets. In a recent interview TVL's MD, Dan Atkins, commented:
"You have never been on a London bus like this before! It's a fashion statement in itself… with all the mod cons of a very impressive and stylish Mayfair pad. The Vault goes wherever you need to be - perfect for a Popstar, band or a mobile office for a billionaire entertaining clients. Imagine holding power meetings in The Vault? Very impressive."
Whether you're entertaining clientele, hopping aboard for a themed evening or simply venturing from one venue to another, The Vault London's peripatetic ability outshines all static alternatives.
TVL comes fully stocked with a champagne and cocktail bar with your own private DJ to spin your favourite tunes, which makes for a seamless transition from celebration to celebration. The Vault London's most important asset is its unique ability to maintain and surpass the atmosphere of both the departure and destination points.
This partnership cements TVL's reputation for being one of the most stylish venues in the capital with its finger on the pulse.
Sunday 15th September 2013, 7pm
Fashion show: Mint Leaf, Suffolk Place, Haymarket, London, SW1Y 4HX
Then onto the Vault, for champagne and cocktails in the Purple Room as you journey over to the Rose Club for the official AfterParty.
-- NOTES TO THE EDITORS --
FashionBoxx and FashionTV are gladly extending a limited number of complimentary tickets to the ladies and gentleman of the press. Should you be interested in attending the event and/or experiencing The Vault please send your name, publication, and contact details to info(at)thefashionboxx(dot)com.
For those interested in attending as non-press RSVP requests made at http://www.thefashionboxx.com.
MORE ABOUT THE VAULT
The Vault is a unique repurposed London bus offering bespoke services to private clients, corporates, celebrities, brand launches and so much more. Whether it's to Launch a new Music Video/CD, hosting a Power breakfast meeting, a pre-Dinner Cocktail party perhaps, or how about for Corporates an exciting new venue to impress and Pitch to new Clients, or as a reward for super performance at Office? You cannot be more VIP here, imagine being picked up from your jet or having the very accommodating Vault Team creating a party you will never forget – the Vault indeed offers the perfect venue.
Capable of holding up to 50 guests, The Vault is fully equipped with a bar, leather upholstery, bathroom facilities and 3 separate VIP areas.
To learn more about The Vault visit http://vaultlondon.com/ and follow the company on
Twitter: @VaultMembers
THE DESIGNERS
KV Couture
Estonian designer Kristina Viirpalu is a celebrated couturier known for her label KV Couture. Having gained her fashion skills and qualifications at the renown Tallinn University in Estonia, Kristina's pieces have been worn by the first lady of Estonia as well as noted members of Parliament. In 2013, KV Couture won the grand prize for womenswear at London Fashion Week's International Fashion Showcase, thus highlighting Kristina's talent and foreshadowing her label's success.
Adam X
Adam X is a UCA Rochester fashion graduate with experience working under the legendary British fashion house's Alexander McQueen and Temperley London.
KENGURU
The KENGURU fashion label was incepted in 1994 by Hungarian fashion designer KENGURU. Since 2004, KENGURU has owned and run Budapest Fashion Week and has a dedicated spot on FashionTV each season where he showcases his latest collections.
Daisy Allen
Daisy Allen is a Northumbria University fashion graduate. Daisy Allen's, Spring Summer 2014 collection, 'And God Created Woman', is a tale of a young elegant woman's escape from the cold and damp weather of the UK to the enchanting French Riviera. Each look demonstrates the different stages of her voyage.
IVCuff
IVCuff are a luxury shirt brand specialising in formal attire and businesswear. Designers and co-founders Conrad Swailes and Claudio Lugli combined their fashion expertise and created IVCuff to deliver simple shirts of the highest quality. IV Cuff proudly donate a percentage of all profits to charity.
Galina London
Handcrafted in London with luxury Italian leather, Galina London is an emerging womenswear accessories brand. Galina's bespoke handbags, belts and bracelets have attracted celebrities including Uma Thurman and those searching for quality one-off pieces.
IVCuff and Galina London will be launching an exclusive collaborative collection during the show at Mint Leaf of September 15th.