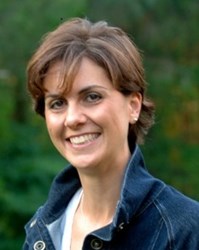 Smoothies and green juices taste great and leave you satisfied.
Bristow, VA (PRWEB) September 10, 2013
Northern Virginia cooking class offers opportunity to get wise to fall body cleansing and learn how to turn a smoothie into a quick, satisfying meal replacement in Bristow VA from Amy Butchko, CHC, Loomis Digestive Health Specialist.
"This class is perfect If you don't always eat right or skip meals because you're sometimes just too busy to fit everything in," said Amy Butchko who will host and teach the class.
"I've decoded the health food mumbo jumbo and figured out great ways to add elusive healthy proteins, fiber, the right kinds of fats, and high-octane ant-oxidants (aka super foods) into smoothies and green juices that actually taste great and leave you satisfied. Plus, I'll teach you how to do it without a lot of added health-harming sugars."
This class is a primer on how to create delicious healthy answers that literally fill the gap in any diet without spending a ton of time in the kitchen. Partipants will learn which ingredients give the most bang for the buck and how to fit high quality nutrition into any budget.
"Healthy Smoothies and Juices" also covers which greens work best in smoothies or juices and which ones to avoid for certain health conditions (NO, kale is NOT good for everyone…find out who is at risk).
BONUS: All attendees will get a fall body and liver cleanse primer that includes everything needed to slim down fast and get energized this fall. ($47 value)
BONUS: All attendees will leave with recipes, training and a chance to sample all sorts of fruit and vegetable juices!
BONUS: Vegan or worried about too much animal protein? The class is totally appropriate for vegans, vegetarians and omnivores (eats everything!).
Amy adds, "If you've thought about trying a smoothie or juicing regimen but didn't know where to start, this is THE class you will NOT want to miss. This will be the only time it's offered this year, so sign up now. "
Registration information is here http://bit.ly/185nf1X
Class information
What: Healthy Smoothies and Juices (PLUS fall cleanse how-to instructions!)
When: Sunday, September 22, 3 p.m.
Where: Bristow, VA (see link for registration information and address)
Cost: $29
(Participants will get hands-on instruction along with take-home treats and printed recipes they can immediately use at home. )
Register by calling (703)791-9355 or use this link: sign up online. Classes will fill up. Please plan ahead.
About Wellness Works LLC
Wellness Works, LLC, founded by Amy Butchko in 2009, serves individual and corporate clients near her home in Northern Virginia and nationally via phone and Skype.
Amy, a health coach in Northern Virginia, teaches how to eat better, reduce stress, increase energy and improve personal wellness. She is based in Bristow, VA, specializing in nutrition and digestion offering wellness strategies for busy professionals and entrepreneurs to beat fatigue, get rid of bloating, detoxify and increase energy.
*These statements have not been evaluated by the FDA and are not to be construed as diagnosis, treatment or cure for any particular disease or malady. Participants should consult his or her physician before embarking upon any health practice that's new. Results achieved will vary from person to person.