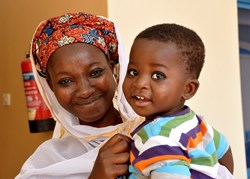 While our team is grateful for this recognition, the real winners with the project are our patients in Ghana.
Sioux Falls, SD (PRWEB) September 09, 2013
Sanford Health today announced that it ranked in the top 100 on this year's InformationWeek 500 – a list of the top technology innovators in the U.S. The full list can be on http://www.informationweek.com/500.
Sanford Health was recognized this year because of the development and implementation of electronic medical records (EMRs) at its clinic locations in Ghana, Africa. Before the implementation of electronic medical records, existing processes were completely paper-based. The conversion to EMR reduced registration time and improved patient follow up.
"Bringing an EMR to these clinics immediately presented a multitude of technical and social challenges, and resolving these challenges required some creative efforts to assure success," said Arlyn Broekhuis, Sanford Health's chief information officer. "Intensive work and everyone's willingness made this project an incredible success. While our team is grateful for this recognition, the real winners with the project are our patients in Ghana."
In 2012, the first Sanford World Clinic opened in Cape Coast, Ghana and currently sees more than 1,300 patients per week. Throughout 2012, the second, third and fourth clinics opened in the communities of Kojokrom, Adenta and Mankessim. The fifth clinic in the community of Kasoa will open in fall 2013. At that time, Sanford World Clinics Ghana will employ nearly 150 individuals with the capacity to handle approximately 400,000 annual patient visits.
"The theme of this year's InformationWeek 500 is digital business. It's a movement, rooted in data analytics, mobile computing, social networking and other customer‐focused technologies that are turning companies and industries on their ear," said InformationWeek Editor In Chief Rob Preston. "Every enterprise is now a digital business — or needs to become one fast. The companies in our ranking are leading the way."
InformationWeek identifies and honors the nation's most innovative users of information technology with its annual InformationWeek 500 listing, and also tracks the technology, strategies, investments, and administrative practices of some of the best‐known organizations in the country. Unique among corporate rankings, the InformationWeek 500 spotlights the power of innovation in information technology.
Additional details on the InformationWeek 500 can be found online at
http://www.informationweek.com/iw500/.
About Sanford Health
Sanford Health is an integrated health system headquartered in the Dakotas and is now the largest, rural, not-for-profit health care system in the nation with locations in 126 communities in nine states. In addition, Sanford Health is in the process of developing international clinics in Ghana, Israel and Mexico.
Sanford Health includes 39 hospitals, 140 clinic locations and 1,360 physicians in 81 specialty areas of medicine. With more than 26,000 employees, Sanford Health is the largest employer in North and South Dakota. The system is experiencing dynamic growth and development in conjunction with Denny Sanford's nearly $700 million in gifts, the largest ever to a health care organization in America. These gifts are making possible the implementation of several initiatives including global children's clinics, multiple research centers and finding cures for type 1 diabetes and breast cancer. For more information, please visit sanfordhealth.org.
About InformationWeek
For more than 30 years, InformationWeek has provided millions of IT executives worldwide with the insight and perspective they need to leverage the business value of technology. InformationWeek provides CIOs and IT executives with commentary, analysis and research through its thriving online community, digital issues, webcasts, proprietary research and live, in‐person events. InformationWeek's award‐winning editorial coverage can be found at http://www.informationweek.com.