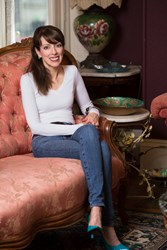 I am thrilled about introducing my Fantasy Fashion Oil collection at the Artexpo New York 2014. I have always had a passion for art and fashion and believe the Artexpo is the best place to display my latest collection. - Ahlfield
(PRWEB) September 10, 2013
One of America's leading retail fashion illustrators of the last three decades, Barbara Tyler Ahlfield announces her "Fantasy Fashion Oil" Collection for Artexpo/SOLO New York 2014. Ahlfield continues her commitment and passion for fashion and art by turning her brushes to the fashion runway, yesterday and today's fashion trends and fine art fantasy with large format 4x5" oil paintings.
Ahlfield is committed to continuing America's grand historic tradition of fashion illustration by combining the elements of fashion design, luxe fabrics and dramatic posing on canvas. Her first such collection debuts at New York Artexpo/SOLO April 2014 and is much anticipated as Barbara's paintings are a fusion of classic oil painting and dramatic, detailed fashion illustration. Additionally, the paintings are flavored by elements of vintage fashion, sumptuous fabric and arresting mood.
"I am thrilled about introducing my Fantasy Fashion Oil collection at Artexpo/SOLO New York 2014. I have always had a passion for art and fashion and believe that Artexpo is the best place to display my latest collection," stated Ahlfield.
The debut of Barbara's collection, "Pose" at Artexpo/SOLO 2014 represents the transition and evolution of her work from her fashion illustration legacy to large scale fashion-themed fine art oil paintings. These paintings showcase the excitement, color and style of today's runway galas and the beauty and elegance of the gowned figure.
For more information on Barbara Tyler Ahlfield and her illustrations, please visit: http://www.fashionillustrationandmore.com/.
About Barbara Tyler Ahlfield:
Barbara started drawing at the age of two and was soon decorating her bedroom walls with crayon fashion drawings. As a child, she was fascinated with the glamorous fashion she saw in the old black and white films on Television as well as the formal portraits she studied during children's classes at the Rochester Memorial Art Gallery. Following college, she united her loves of art and fashion into a career that spanned 30 years as one of the leading, award winning retail fashion illustrators in the country.
The archive of her illustrations is one of the few existing collections of American fashion illustration over the last quarter century and offers a retrospective of the American woman's changing sense of style as well as changing illustrative styles. On any given day, her full page illustrations appeared in many of the major newspapers in the country including the New York Times, Chicago Sun Times, Washington Post, Philadelphia Inquirer, etc. showcasing top American fashion designers for the major US department stores such as Lord and Taylor, Nordstrom, Dillards, John Wannamaker and many more. For more information, please visit: http://www.fashionillustrationandmore.com/.