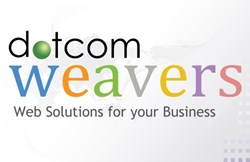 We are honored by this recognition and will continue to work hard to maintain this coveted position.
Paramus, NJ (PRWEB) September 11, 2013
Dotcomweavers has come in fifth rank on this month's list of the top web development firms, coming from a previous ranking of tenth. topseos monthly ranking is a dependable guide to the best in the Internet marketing world and millions of buyers depend on them as a comprehensive guide in making purchasing decisions.
"Dotcomweavers is honored by this recognition from topseos and we will continue to work hard to maintain and go beyond this position we have secured," said Amit Bhaiya, Dotcomweavers President and Co-Founder.
Years of providing quality solutions and services in the field of web design, development and SEO has proven successful for many local New Jersey businesses and has helped Dotcomweavers top this national list for its consistent performance and superior services rendered to its clients.
topseos seeks out leading firms in the industry through a rigorous evaluation criteria that includes:

Competitive advantage
Superior services and pricing
Customer and technical support
Response to client problems
Innovation that set it apart from the competition
Overall efficiency
Overall performance
As part of the evaluation process, clients of Dotcomweavers are asked to give feedback on general and project specific questions such as:

Rate your overall experience.
What type of needs analysis was conducted before work initiated?
What content management system, MVC frameworks, standards were considered prior to coding?
How often were you advised of the progress of development and how were you able to review the work and offer your input?
How much of your personal involvement was required in this process?
"The whole industry looks to us to identify reliable and accurate benchmarks and Dotcomweavers has proven by its performance that they deserve to be on this coveted list," shared Jeev Trika, partner at topseos.
For more information about Dotcomweavers log on to http://www.dotcomweavers.com .
About Dotcomweavers:
We are a cutting edge web design and development company headquartered in Paramus, New Jersey. Dotcomweavers builds end-to-end web solutions using various open source platforms, proprietary solutions and customizable technologies. Founded in 2005, Dotcomweavers has become the leader in providing first to market innovative web solutions that are flexible and efficient.
info(at)dotcomweavers(dot)com
Dotcomweavers,
140 East Ridgewood Ave.
South Tower
Paramus, New Jersey 07652
(P) 201.940.7377
About topseos:
Since its introduction in 2002, topseos has been identified as an independent authority on vendors who supply Internet marketing products and services ranging from the best search engine optimization companies to the best pay per click management tools. In addition, topseos connects thousands of businesses each year that are looking for Internet marketing services with those who provide it.
With dedicated online presence in the US, UK, Canada and Australia, topseos continues to make a global impact in the Internet marketing arena.
Company Contact:
800-874-2458
service(at)topseos(dot)com
http://www.topseos.com