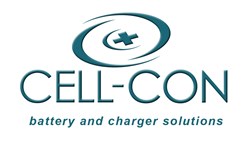 Industry experience and employee dedication made our company a success in the portable power market for 30 years.
Exton, PA (PRWEB) September 16, 2013
For over 30 years, Cell-Con, Inc. has been adapting to change and adding new battery and charger solutions for their medical, military and industrial customers.
The company has medical device approval--ISO 13485:2003 and is ITAR registered.
Gene Kiley, CEO of Cell-Con, Inc., (http://www.cell-con.com) talked about the significance of maintaining its position in the OEM marketplace considering the vast changes in technology since 1983.
"Our goal was never to be the biggest in the business, but to take care of the small and mid-size customers that the big guys in the business tend to ignore."
"We pride ourselves in making our customers feel that they are our only customer, no matter how customized their project is, or the size of their order."
Gene went on to say, "Our battery packs are assembled right here in the USA, and we stand behind everything we do at Cell-Con, it's really a combination of things that make our business successful."
President of the company, Steve Fricker went on to add, "We are also very proud of the fact that many in our talented crew have been with Cell-Con for over 15 years, and it's that industry experience and employee dedication that make our company such a success in the portable power market."
In this age of technology that brings everything quickly to our fingertips, there is no reason why innovative/portable devices should lag behind. Often, original equipment manufacturers need longer lasting, lighter and smaller commercial grade batteries and chargers to put in their devices.
Batteries and battery chargers usually aren't the first thing to come to mind when thinking about sophisticated medical and military devices, but they play a crucial role in device functionality and that is why a commercial grade battery and charger with the appropriate approvals are so often sourced by engineers. Whether they require custom or specialized battery packs, battery chargers, power supplies, DC/DC converters, or other power support to make sure their designs function as planned, Cell-Con is the preferred partner for many medical, military and industrial applications.
Satisfying the OEM market remains Cell-Con's focus today, as it was 30 years ago.
About Cell-Con, Inc.
Cell-Con has served as a world-class supplier to original equipment manufacturers for over 30 years. It's portable power solutions include: Lithium Ion battery packs and battery chargers.
It's partners include OEM's in the Medical, Industrial, Military, Transportation, Instrumentation, Utility & Metering, RFID, Robotic, Security, and Data Acquisition markets.