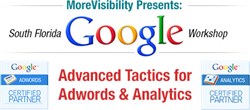 Boca Raton, FL (PRWEB) September 12, 2013
MoreVisibility, one of the most experienced and respected digital agencies today, announced that they have partnered with Google to deliver an in-person workshop on October 2, 2013 in Fort Lauderdale, Florida. Speakers will include several members of the MoreVisibility team, along with an expert from Google.
MoreVisibility is a Google AdWords Partner, a Google Analytics Certified Partner (GACP) and a Google Tag Manager Partner; one of only a select few agencies to be awarded all of these credentials in the United States.
Educating online marketers has been a cornerstone of MoreVisibility since their founding in 1999 (pre-Google). This commitment includes a focus on the importance of using analytics data to drive business decisions and improve ROI.
The Advanced Tactics For AdWords & Analytics with Google Workshop will take place on Wednesday October 2, 2013 at 8:30 a.m., Sheraton Hotel, Ft Lauderdale Airport.
For more information or to register for the workshop, please click here.
The workshop will cover the following:

Tactics to employ with Enhanced Campaigns
Tracking improvements through Google Analytics
Strategies to leverage the Google Display Network
Advanced targeting features to better define audiences
Andrew Wetzler, MoreVisibility's President noted, "This event presents a unique opportunity to learn the latest and most effective strategies, tactics and tools that an organization can employ to improve their ROI with Google AdWords coupled with a correct customization and utilization of Google Analytics."
"For those individuals who are able to stay after the conclusion of the workshop, we are pleased to offer one-on-one website critique / analysis sessions," noted Wetzler.
To maximize your marketing dollars in Google AdWords, learn how to interpret data in Google Analytics, and receive a one-on-one consultation for your website, register for the workshop today.
About MoreVisibility
Founded in 1999, MoreVisibility is one of the nation's leading Search Engine Marketing, Optimization and Design firms, having helped hundreds of Fortune 1000 companies and small businesses. From 2005 - 2010, MoreVisibility was named to the Inc 500/Inc 5000 list of the nation's fastest growing privately owned firms.
MoreVisibility is a Google Analytics Certified Partner, Google AdWords Certified Partner and a Google Tag Manager Specialist.
MoreVisibility boasts high client retention through a team of 40 senior professionals who deliver superior performance and measurable results. Notable clients served include: Direct Marketing Association (DMA), Children's Hospital of Philadelphia, The Metropolitan Museum of Art, Teavana, McGladrey, The Mayo Clinic, Travel Nevada, Miami Dolphins and Clemson University. MoreVisibility is based in Boca Raton, Fla., and can be found on the web at http://www.MoreVisibility.com.