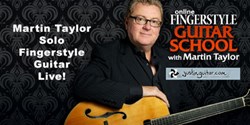 In addition to his acclaimed performing career, Martin Taylor has spent the past three years pioneering a new way to teach guitar online.
Napa, CA (PRWEB) September 11, 2013
ArtistWorks, the leading interactive lifestyle social learning platform, and leading free online guitar resource, JustinGuitar.com, present a free online workshop featuring world-renowned solo jazz guitarist Martin Taylor.
The workshop takes place online October 1st at 8PM GMT - 1 PM Pacific Daylight Time.
Guitar enthusiasts will be treated to impromptu performances, techniques and tips for fingerstyle players, and Q&A with the legendary solo jazz master himself.
Pat Metheny called Martin Taylor "one of the most awesome solo guitar players in history." Jeff Beck says, "He out-shreds all of us put together." He's received 15 British Jazz Awards, a Grammy nomination, and in 2002, was appointed an MBE by the Queen for "Services to Music".
Just off for a successful world tour with fellow guitar great, Tommy Emmanuel in support of their latest CD "The Colonel and the General," Taylor now treats fans to a special hour of all things guitar.
In addition to his acclaimed performing career, Taylor has spent the past three years pioneering a new way to teach guitar at the ArtistWorks Online Fingerstyle Guitar School with Martin Taylor.
At the ArtistWorks Online Fingerstyle Guitar School with Martin Taylor, students can learn from Martin's complete library of online video lessons and tabs. They can use ArtistWorks Video Exchange™ Feedback Platform to submit practice videos and get personalized video responses from Martin with feedback and additional exercises.
These Video Exchanges are paired together, combined with the lessons and made available for all students to see and learn from.
"Solo Fingerstyle Guitar Live" will stream live at MartinTaylorGuitar.com and at http://www.JustinGuitar.com.
JustinGuitar.com Founder, Justin Sandercoe will moderate the event which will include members of Taylor's Online Fingerstyle Guitar School as well as surprise guests.
To sign up for the event and receive an event reminder, click here.
About ArtistWorks, Inc.
Founded in 2008 by former AOL executive David Butler and former financial executive Patricia Butler, ArtistWorks, Inc. is the leader in a new generation of online learning platforms. Their revolutionary global learning community of world-renowned teaching artists and enthusiastic amateurs is dedicated to unleashing the music that lies within all of us. This "next generation" Video Exchange Feedback Platform enables virtuoso musicians to "teach the world" by presenting their musical legacy in the form of HD video lessons to subscribing members. Utilizing simple web cams, smartphones, tablets or video cameras, members are able to submit practice videos and get individualized video feedback and guidance from their teaching artists - creating a constantly evolving two-way, online learning experience.
ArtistWorks currently offers schools from such world-class artists as: Paul Gilbert (rock guitar lessons), Martin Taylor (fingerstyle guitar lessons), Jason Vieaux (classical guitar lessons), Andreas Oberg (jazz guitar lessons), Jeannie Deva (singing lessons), Justin BUA (art lessons), Nathan Cole (violin lessons), Jeffrey Khaner (flute lessons), William Caballero (French horn lessons), David Bilger (trumpet lessons), Ricardo Morales (clarinet lessons), Nathan East (electric bass lessons), John Patitucci (jazz bass lessons), Howard Levy (harmonica lessons), DJ Qbert (DJ lessons), Christie Peery (piano lessons), Billy Cobham (jazz and fusion drum lessons), Luis Conte (percussion lessons), as well as the ArtistWorks Academy of Bluegrass with Tony Trischka (banjo lessons), Missy Raines (double bass lessons), Bryan Sutton (flatpick guitar lessons), Andy Hall (Dobro lessons), Mike Marshall (mandolin lessons), and Darol Anger (fiddle lessons). For more information, visit http://www.ArtistWorks.com.
About JustinGuitar.com
Justin Sandercoe created justinguitar.com in 2003 and since then has had clocked up over 140 million views of his YouTube videos and receives over 25,000 unique visitors to his web site every day! With many accolades in both the traditional press and new media, The Independent newspaper calls him "one of the most influential guitar teachers in history" and guitar legends such as Brian May and Steve Vai sing it's praises. Mark Knopfler says, "If you told me you wanted to get going on guitar I'd recommend Justin Sandercoe."
Before teaching millions of guitar players online, Justin taught in the flesh at The Guitar Institute in London and has written for Guitar Techniques and Total Guitar magazines. As well as teaching, he plays in the band We Came As Strangers and previously worked as sideman in the Katie Melua band and has worked with Cathy Dennis, Carla Bruni and many others. For more information and to check out over 600 completely free guitar lessons, please see http://www.justinguitar.com.