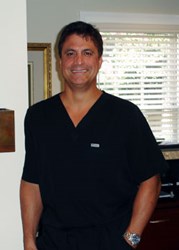 Durham, NC (PRWEB) September 14, 2013
Dr. Jason Cataldo can help patients who have lost teeth regain a beautiful smile and maintain jaw bone density with Teeth-in-an-Hour dental implants. Patients who are missing teeth have many tooth replacement options, but Teeth-in-an-Hour at Periodontics and Dental Implants of North Carolina with Dr. Cataldo is one of the most convenient and affordable.
Teeth-in-an-Hour uses implants to anchor the prosthesis in place, a setup that offers benefits dentures and regular implants do not. Teeth-in-an-Hour is more affordable than regular implants, and it requires fewer return visits to the periodontist during the healing period. Unlike dentures, Teeth-in-an-Hour implants only require routine dental care, and they offer a much more secure fit.
Besides security and natural appearance, patients who receive Teeth-in-an-Hour from Dr. Cataldo will enjoy another benefit: stable levels of jaw bone density. Without stimulation from the roots of teeth, the jaw bone starts resorbing, or shrinking. This shrinking can visibly change a person's facial structure, and it can cause dentures to need resizing. If resorption continues for too long, a person may not have sufficient bone density to be a good candidate for implants. This means that patients who have lost all of their teeth should schedule an appointment with Dr. Cataldo to start exploring their tooth replacement options early.
Tooth and bone density loss is increasingly likely with age. The National Health and Nutrition Examination Survey has indicated that over 30 percent of people over age 75 have lost all of their permanent teeth, while more than 20 percent of people between ages 65 and 74 have. It is important for patients who are missing teeth to understand that bone density loss will follow tooth loss if preventive measures are not taken.
Teeth-in-an-Hour will not be the best option for everyone. The procedure does require sufficient bone density, although a bone graft can be performed to increase density. Dr. Cataldo determines whether bone density is sufficient with a CT scan. For patients who are good candidates for the procedure, Dr. Cataldo can place the dental implants and the prosthesis during the next session. Patients can learn more about the procedure or schedule an appointment by calling Dr. Cataldo's office today.
About the Practice
Periodontics and Dental Implants of North Carolina is a periodontal practice offering personalized dental care for Durham, NC gum disease patients. Dr. Jason Cataldo attended college at the University Of Buffalo School Of Dental Medicine, completed a general practice residency at Michael Reese Hospital in Chicago, IL, and completed his periodontal training at Case Western Reserve University in Cleveland, OH. He is board certified in periodontology and Adjunct faculty at the University of North Carolina at Chapel Hill. Dr. Cataldo is part of one percent of dental professionals providing the most recent FDA cleared laser procedure for gum disease treatment. To learn more about Periodontics and Dental Implants of North Carolina and their dental services, visit their website at http://www.carolinaperioimplants.com and call (919) 724-4273.